GH Spoilers: Carly Has Diane Draw Up A Restraining Order On Joss's Behalf Against Esme?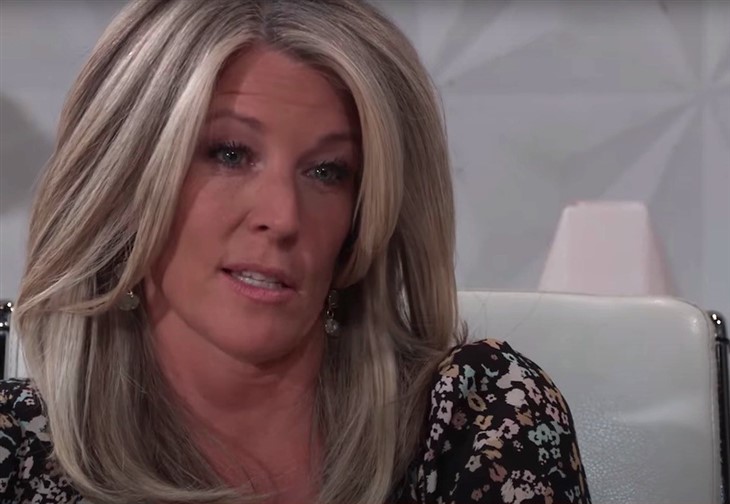 General Hospital (GH) spoilers and rumors tease that Carly Corinthos (Laura Wright) might have Diane Miller (Carolyn Hennesy) draw up a restraining order against Esme Prince (Avery Kristen Pohl) on Josslyn Jacks' (Eden McCoy) behalf in upcoming episodes of General Hospital!
General Hospital Spoilers – Esme Prince Has Ruined Josslyn Jacks' Life
General Hospital viewers will remember that Esme has for all intents and purposes ruined Josslyn's life and even has tried to cause trouble many times between her and her friends; Esme has been intent on framing Trina Robinson (Sydney Mikayla). It was Esme herself who set up the burner phone, which she switched later to make it look like Trina's, to record Joss and Cameron Webber (William Lipton) having sex in the Corinthos cabin.
General Hospital viewers will recall she drugged Trina at the time, and then some weeks later uploaded the recording to the Port Charles University computer system and then the internet, and there has been fallout ever since. The chickens came home to roost when Josslyn told Carly everything and they saw Esme in the Metro Court and Carly grabbed Esme and confronted her, Esme making it look like Carly hurt her wrist when it was already hurt. After Josslyn couldn't eat her breakfast with her mother she was so sickened, Carly put in a call to Diane about Josslyn.
GH Spoilers –There's No Proof Yet But There Will Be
General Hospital viewers will see Carly talk to Drew Cain (Cameron Mathison) about a situation where she tells him there's no proof yet, but there will be – she may be confiding about plans to not only put a restraining order out on Esme, but to prosecute her! General Hospital viewers will remember that Carly gave Damian Spinelli (Bradford Anderson) a call after Josslyn told her about the recording and the fallout, and he was able to scrub it from the web.
Viewers know Spinelli is just as able to trace the source, even if it was sent from a burner phone; he would be able to tell what time and date it was recorded and when it was uploaded. Viewers know that Carly will definitely want to involve the law in taking the mean girl down, whether it be in court or in a jail cell – but for now, she wants to keep her daughter safe. That may mean a restraining order to keep Esme far, far, away from Josslyn and her younger children.
General Hospital Spoilers – Cameron Webber Suggests Drastic Steps To Stop The Harassment In Its Tracks
General Hospital viewers will recall that Josslyn and Cameron both worried about the downloads that random students and others may have kept on their devices even after Spinelli scrubbed it from the web. General Hospital viewers see one of those random students named Adam (Joshua Benard) at Charlie's Pub where Josslyn is studying, and he had contacted her about studying together; she doesn't know him very well although she knows his name. She wants to start by quizzing each other back and forth about certain subjects and he brings up "chemistry" and reveals he's seen her naked – he's seen the sex tape and that's what the "study" is about! Afterwards Cameron showed up, and he suggests drastic steps to stop the harassment as Josslyn gets tears in her eyes – he says they should stop hanging out with each other in public! Josslyn will not be able to help but tell her mother what has happened and Carly knows something must be done!
Be sure to catch up on everything happening with GH right now. Come back here often for General Hospital spoilers, news, and updates.