General Hospital Spoilers: Portia Tries To Persuade Curtis To Consider Marshall's Feelings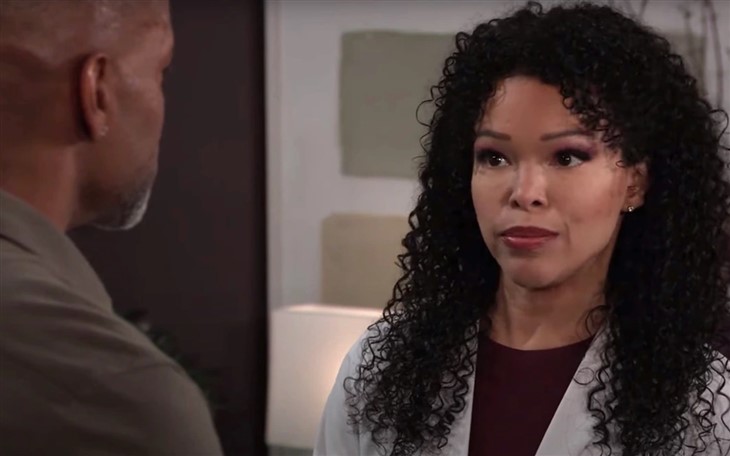 Curtis Ashford (Donnell Turner) isn't happy with the outcome of his genetic screening testing. While he's over the moon that he carries zero markers for Schizophrenia — a disorder that his father has suffered from for years — he can't shake how shook Portia Robinson (Brook Kerr) was when she read the results.
As a doctor, Portia has more experience understanding medical details like this, and if she was that stunned that Curtis was able to avoid all ten genetic markers, he knows something is up. Now, will Portia tell him the truth?
General Hospital Spoilers — Curtis Ashford Opens Up to Portia Robinson
General Hospital spoilers say when Curtis confronts Portia about the shock and anxiety she seemed to express when reviewing his test results, she's going to be hesitant to make any kind of judgment. These tests certainly didn't compare any kind of genes that would detail whether or not Marshall Ashford (Robert Gossett) and Curtis are father and son.
Nonetheless, Marshall also seemed like he couldn't cut out of the room fast enough after he heard the results, and he was very choked up. Both of their reactions combined spell trouble as far as Curtis is concerned, and he's hoping Portia will just tell him he's being paranoid, but that's not what she says.
GH Spoilers – Suggest Portia Robinson Tries To Reframe Curtis Ashford' View
Portia is going to struggle not to see the comparisons between the possibility that Marshall is lying to Curtis about being his father, and the reality that Portia is lying to everyone about Curtis being Trina Robinson's (Tabyana Ali) father. In a way, Portia feels inclined to relate to Marshall just to make herself feel better. She might try to appeal to Curtis by suggesting he put himself in his father's shoes. Maybe his mother had an affair and Marshall stepped up to raise Curtis himself anyway. However, it hardly makes sense that he ran out on him later.
General Hospital Spoilers — Curtis Ashford Is Taken Aback
Curtis didn't expect Portia to try to defend Marshall's presumed actions. At that point, he's going to be put off by talking about this problem with Portia, and he will seek out someone else to air his concerns to. Let's hope it isn't Jordan Ashford (Tanisha Harper), who said she wanted to stay out of the mess with Trina but might welcome herself on board if Curtis invites it.
Will Jordan keep her mouth shut, or might she also recognize the parallels and consider what she knows too important to keep to herself? Let us know what you think might happen, and keep checking back with us for more General Hospital  news, updates, and spoilers as they become available.