General Hospital (GH) Spoilers Friday, January 7: Will Carly Take Sonny Back?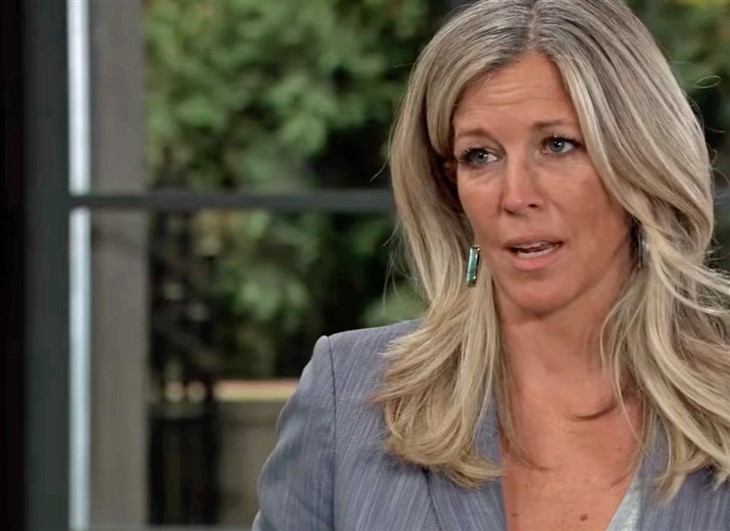 General Hospital (GH) spoilers for Friday, January 7, 2022, reveal Sonny and Carly having a very serious talk that could change everything in their lives. Is Carly willing to just shut up and listen?
General Hospital Spoilers – Sonny Corinthos Pleads His Case
Carly Corinthos (Laura Wright) is set to stand stoically and try to listen to what Sonny Corinthos (Maurice Benard) has to say when he tells her he doesn't want to spend another minute without him. She even looks like she is actually quiet for a minute, but that's not bound to last long.
In fact, it looks like their conversation is interrupted by Bobbie Spencer (Jacklyn Zeman), who has bad news for both of them about Luke Spencer (Tony Geary). We all remember that Caroline and Luke never liked one another, but Sonny and Luke were best friends so he will likely not take the news well.
Meanwhile, Nina Reeves (Cynthia Watros) really wants to believe Ava Jerome (Maura West) when she tells her that Sonny, not Mike, is torn between her and Carly, so she tells Phyllis (Joyce Guy) that Sonny might find happiness with her. It's Phyllis' job to talk Nina down because she believes she is wrong.
GH Spoilers – Brook Lynn Quatermaine Is Ready To Fall Apart
The lies are starting to catch up with Brook Lynn Quartermaine (Amanda Setton). She seemed to have forgotten she called Granny looking for a loaner baby all those months ago and now Tracy Quartermaine (Jane Elliot) is back and figured out the truth.
For some reason, she and Maxie Jones (Kirsten Storms) want to continue tricking people, so Brook also goes nuts when Harrison Chase (Josh Swickard) stops by for some alone time with Bailey and to take her to see his brother. Does Chase not remember this is all an act? Is he becoming as attached to a baby that's not his as Brook Lynn is and as attached as Valentin Cassadine (James Patrick Stuart) was? Uh-oh….
General Hospital Spoilers – Wedding Ring Mystery For Liz Webber And Hamilton Finn
Speaking of Dr. Finn (Michael Easton), he and Elizabeth Webber (Rebecca Herbst) plan for their first date, but of course, something goes wrong. Liz finds the wedding ring that fell down the sink in her locker at GH and wonders how on Earth it got there. We wonder the same thing…. Stay tuned to General Hospital weekdays to see how these stories play out.