EastEnders: Jay Brown And Lola Pearce Struggle To Keep Their Relationship A Secret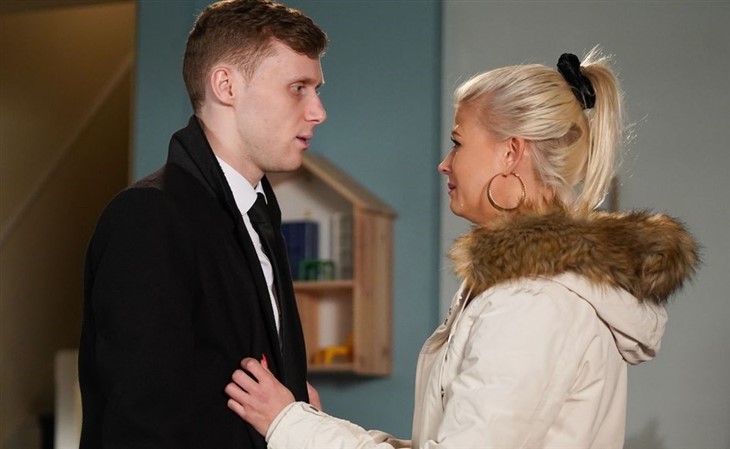 EastEnders spoilers, news, and updates tease that Jay Brown (Jamie Borthwick) and Lola Pearce (Danielle Harold) are finally back together but the couple wants to keep their relationship a secret at least for now. Unfortunately, the couple will struggle to hide their reunion.
In upcoming scenes, Martin Fowler (James Bye), Zack Hudson (James Farrar), Jenny Rawlinson (Amy Marston), and Amber plan to go on a date. But they'll encounter a hiccup when Sam Mitchell forces Zack to work at the bar. Martin is determined to go on a date, so he'll ask Jay to come along.
Later on, Lola and Jay talk about whether or not they should tell the others about their relationship. But before they can agree on what to do, Martin drags Jay away. Lola turns up while Jay enjoys his time with Martin, Jenny, and Amber.
EastEnders Spoilers – Jay Brown Wants To Leave
She noticed that Amber seemed to like Jay. But it's obvious that Jay wants to leave, so he comes up with an excuse. He manages to go back to Lola so they could continue their discussion. They both agree to tell Martin and the latter tells the couple's secret to Lily Branning. He had no clue that Jay and Lola don't want anybody to know about their relationship.
Lilly congratulates the couple in public, which shocks Lexi, who had no clue that they got back together. The latter is furious at Lola and Jay for keeping her in the dark about their relationship. But Lexi comes up with a plan. She'll no longer be angry if Lola and Jay agree to do her demands.
EastEnders Spoilers – Danielle Harold Talks About Jay Brown And Lola Pearce's Relationship
Danielle Harold, who plays the role of Lola, said that her alter ego and Jay don't want other people to know that they're back together.
"Lola thinks it might put everyone else off the scent! But then she ends up getting very, very jealous. Jay can't win – I mean, we all want guys to do things until they actually do them, right?" she said.
Lola tells him to go on a date, but she eventually feels relieved when he returns. Things are going to get more serious between the couple as Lola receives shocking news soon.
EastEnders' bosses have already confirmed that Lola will be diagnosed with a brain tumor. The show is working with Brain Tumour Research and Macmillan Cancer Support to make sure that they present the storyline accurately and with sensitivity.
Be sure to catch up on everything happening with EastEnders right now. Come back here often for EastEnders spoilers, news, and updates.