DOOL Spoilers: Jan's Health Crisis Caused By Fight With Belle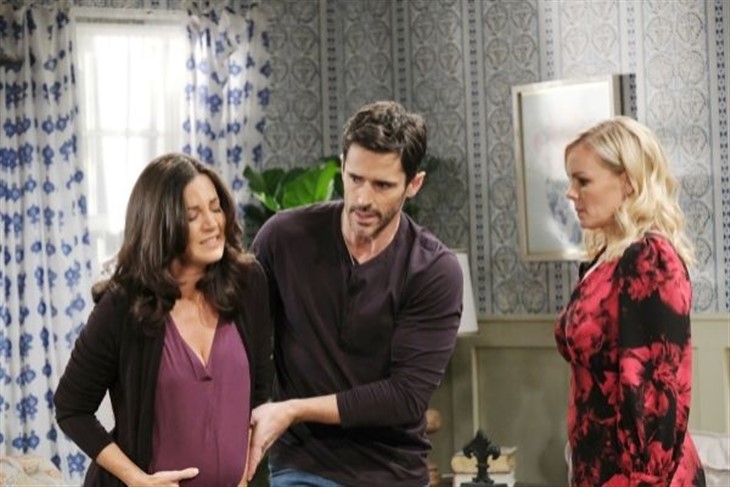 Days of Our Lives (DOOL) spoilers and updates reveal Belle Black (Martha Madison) will put her husband's unborn child in danger as she and Jan Spears (Heather Lindell) go head to head over Shawn Brady (Brandon Beemer). Will their fight cause Jan to lose the baby?
Days Of Our Lives  Spoilers – Jan Spears Will Push Belle Brady Too Far
Days of Our Lives Jan and Belle absolutely hate each other. Jane has tried to come between Shawn and Belle for years. Now thanks to the devil's little escapade in Salem, Jan is pregnant with Shawn's baby. Shawn doesn't want Belle and Jan alone together at all but it seems they will end up alone somehow. Perhaps Jan will call Belle over while Shawn is out just to pick a fight even though she is supposed to be on bed rest. The week of May 23 – 27, Jan and Belle will have some sort of confrontation that could lead to Jan going into early labor.
DOOL Spoilers – Jan Spears Will Blame Belle Brady
No matter who starts the fight, Days of Our Lives Jan will, of course, blame the fight on Belle. Unfortunately, Shawn could very well take Jan's side. Jan is, after all, pregnant and Belle should not fall for Jan's tricks. The confrontation is so bad that Jan doubles over in pain, but that could be fake as well knowing how her mind works. Will Shawn fall for Jan's scheme and put more distance between Belle and himself? Can Belle convince Shawn that it was all a setup? Will the baby even survive?
Days Of Our Lives  Spoilers – Shawn Brady Could Lash Out At Belle Brady
Days of Our Lives Shawn could very well lash out at Belle over this ordeal. Belle should know better than to argue with a woman who is experiencing a high-risk pregnancy. However, Belle's marriage is on the line and she has no intention of letting Jan get her claws into Shawn either. Will Shawn turn to Jan and offer her the support she claims to need? Will Belle be left out in the cold while her husband waits on his child to be born? Will Jan go back to jail after the baby is born, or will Shawn help her to stay out of prison?
Jan will stop at nothing to get what she wants and she's had her sites on Shawn for years. Does Jan finally have Shawn where she wants him? Will Belle lose the love of her life to Jan after all?
Be sure to catch up on everything happening with Days right now. Come back here often for Days Of Our Lives spoilers, news, and updates.