Days Spoilers: Nicole Exposes Ava, Rafe Cleared Of Criminal Charges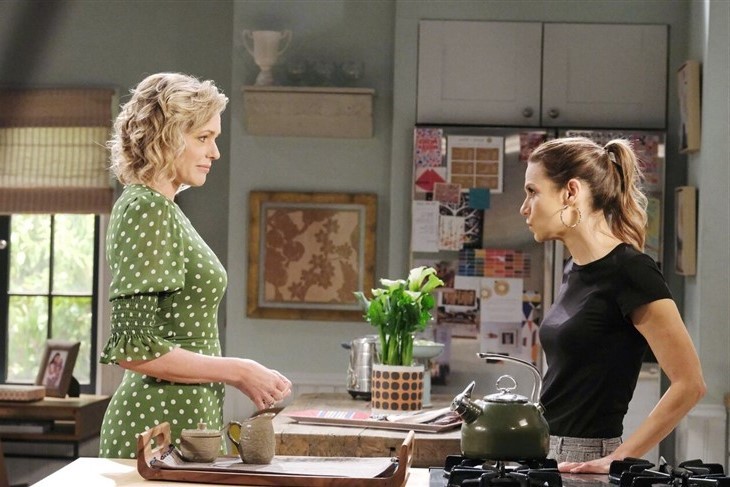 Days of Our Lives spoilers for February sweeps teases that Nicole Walker (Arianne Zucker) suspects Ava Vitali (Tamara Braun) is up to no good. Despite Nicole initially defending Ava, she will see that Rafe Hernandez's (Galen Gering) is right about her. When Nicole exposes the villain, there will be an intense confrontation. Could Nicole put herself in grave danger?
Days Of Our Lives Spoilers – Rafe Hernandez's Gut Instincts
DOOL spoilers reveal that Rafe is in a lot of trouble. Despite not breaking any laws, multiple people have come forward stating otherwise. Of course, Rafe hasn't done anything wrong and these witnesses have been hired by Ava. Rafe knows that Ava has to be responsible for this. Rafe's career isn't the only thing at risk, though. Planting evidence is a crime and Rafe could go to prison.
DOOL Spoilers – Nicole Walker's Investigation
Shawn Brady (Brandon Beemer) has agreed to look into Ava's criminal connections. Even though Shawn will try to clear Rafe, he's not the only person who is helping the commissioner. Nicole is beginning to think that Rafe is right about Ava. Nicole can't prove anything, though. Plus, Ava isn't admitting to setting up Rafe.
Ava did say something that made Nicole wonder if her friend could really be responsible for framing Rafe, though. Ava specifically brought up how Rafe thought she was guilty of murder. As fans recall, that same time was when "Racole" gave into their passion. Then, Ava asked Nicole why she should believe Rafe is innocent since he didn't believe in her innocence.
Days Of Our Lives Spoilers – Violent Confrontation with Ava Vitali
Days of Our Lives spoilers for February sweeps teases that Nicole will dig for the truth. Nicole will leave no stone unturned as she tries to prove that Ava is guilty. Even more important to Nicole is that Rafe is cleared. Nicole does confide in Allie Horton (Lindsay Arnold), who could end up alerting Tripp Johnson (Lucas Adams).
Head writer Ron Carlivati told Soap Opera Digest that Nicole and Ava will have a confrontation. This might even turn violent, so Nicole needs to be really careful.
DOOL Spoilers – Commissioner Cleared
In the end, expect Rafe to be cleared. Even though Shawn might play a part in helping Rafe, it sounds as if Nicole might be the one to save Rafe. It's not going to be easy, though, since DA Melinda Trask (Tina Huang) wants the book thrown at him.
"Rafe is being accused of all this impropriety in the police station and Trask is going after him full force. Nicole rightfully suspects that Ava is behind it and framing him. So she's sort of taking the bull by the horns to prove that Ava is behind all of this. Expect a confrontation between those two women."
When Ava is exposed, it could put Nicole in grave danger. How will Nicole prevent Ava from getting rid of her as she has with others? How can Nicole actually prove to Trask that Rafe is innocent?
Be sure to catch up on everything happening with DOOL right now. Come back often for Days of Our Lives spoilers, news, and updates.