Days of Our Lives Weekly Spoilers: Death, Missing Kids, Missing Flowers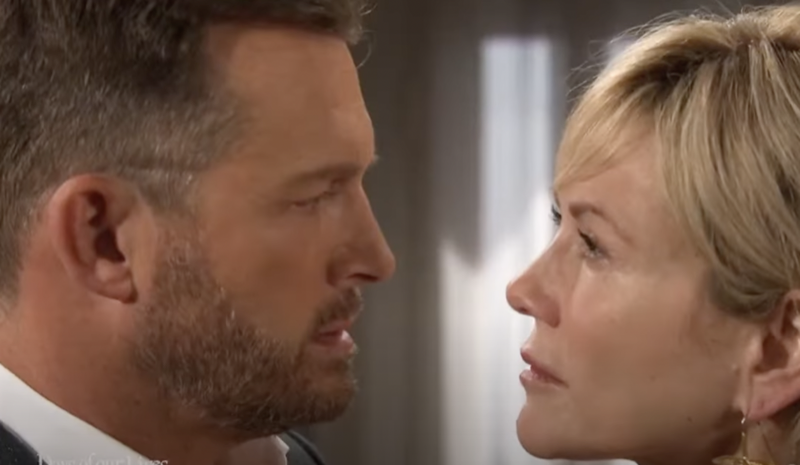 Days of Our Lives spoilers for January 2-6, 2023, reveal a shocking demise, a shocking kidnapping, and a shocking item going missing.
Days of Our Lives Spoilers: Kristen Is Stunned
Kristen DiMera (Stacy Haiduk) can barely believe it when she overhears Brady Black (Eric Martsolf) on the phone with Eric Brady (Greg Vaughan) discussing Rachel Black (Finley Rose Slater). She realizes right then and there that Eric and Brady are the ones who kidnapped Rachel just to get a hole of that orchid and Brady doesn't deny it and demands that she turn over the miracle flower.
The problem is the flower is gone when Kristen goes to retrieve it and this couldn't have come at a worse time for a very good reason.
Kate Relapses And Dies
It's time for the ladies to get whatever magical medical miracle that the orchid brings but since Kristen can't find it when Kate Roberts Brady (Lauren Koslow) gets sick again, she actually dies. Of course, this is Salem so we are sure this can be reversed, but for now, it looks pretty real.
Kayla Brady Johnson (Mary Beth Evans) and Marlena Evans (Deidre Hall) also get sick again and are near death and it feels like an instant replay of earlier this fall. Who could have the orchid and how could things have gone so terribly wrong?
Other Salem Happenings
Stefan O. DiMera (Brandon Barash) and Chloe Lane (Nadia Bjorlin) rang in the new year in a very special way by falling into bed in Miami. They sure never expected Gabi Hernandez (Camila Banus) to barge on in. She is annoyed by what she sees but that doesn't matter because she has to tell Stefan the truth about his brainwashing. Too bad Stefan doesn't really care.
Back in Salem, Will Horton (Chandler Massey) has just about had it with Sonny Kiriakis' (Zach Tinker) new friendship with Leo Stark (Greg Rikaart) and is ready to call it quits, so Sonny has to do a lot of work to make things better and fix things between them.
Finally, the truth is really out there as Sarah Horton Cook (Linsey Godfrey) confirms to Bonnie Lockhart Kiriakis (Judi Evans), Justin Kiriakis (Wally Kurth), and Maggie Kiriakis (Suzanne Rogers) that Xander Cook (Paul Telfer) is indeed the kidnapping clown. Stream new episodes of Days of Our Lives weekdays on Peacock starting at 6 AM EST.