Days Of Our Lives Spoilers: Kate Backs Up Jake, Gabi's Bittersweet Victory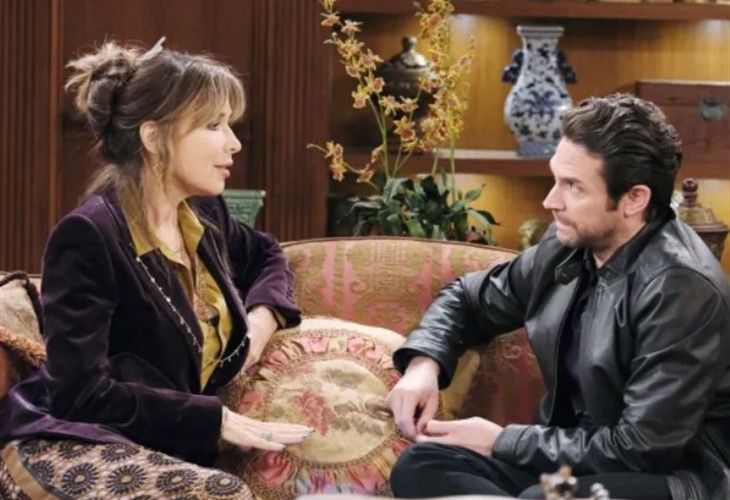 Days of Our Lives spoilers reveal that Gabi Hernandez (Camila Banus) puts Johnny DiMera's (Carson Boatman) plan into motion. Gabi is appointed CEO of DiMera Enterprises and she puts "JoDevil" on the board instead of Victor Kiriakis (John Aniston). "Jabriella" split while Jake gets support from Kate Roberts (Lauren Koslow). What happens when Gabi realizes her mistake?
Days Of Our Lives Spoilers – Gabi Hernandez Bamboozled
DOOL spoilers reveal that Gabi has been targeted by the devil. Unaware that Johnny is possessed, Gabi has been bamboozled. Not only does the devil drive a wedge between "Jabriella," but Gabi blindsides and betrays Jake at the DiMera shareholder meeting.
Gabi announces that she wants to be the new CEO of DiMera Enterprises. This wasn't the plan but despite both Jake and Kate objecting, Gabi gets her wish. Not only does she get the CEO position – which Chad DiMera (Billy Flynn) doesn't find out about until later – but Johnny is appointed to the board instead of Victor.
DOOL Spoilers – Jake DiMera's Split
Jake's entire world comes crashing down and he demands answers from Gabi. The fashionista slams Jake for betraying her and mentions meeting Maggie Horton Kiriakis (Suzanne Rogers) without him. However, Jake has no clue what she is talking about. In the end, Gabi and Jake go in private to discuss their relationship. They share an emotional farewell and Jake can't believe that his "perfect" romance is over.
Days Of Our Lives Spoilers – Confiding In Ben Weston
Days of Our Lives spoilers reveal that after losing in both business and love, Jake confides in Ben Weston (Robert Scott Wilson). Remember, Ben and Ciara Brady Weston (Victoria Konefal) recently figured out that Johnny must be possessed by the devil. "CIN" came to the conclusion after speaking with Julie Williams (Susan Seaforth Hayes).
DOOL Spoilers – Can 'Jabriella' Survive?
Once Ben tells Jake this information and why it makes sense, there is a shift. However, how will Jake prove this to Gabi? Plus, Jake can take on Johnny as a human being… but the devil is another story. At least, Jake won't be able to defeat "JoDevil" on his own.
This might be where Ben and Ciara's meeting with Susan Banks (Stacy Haiduk) could be helpful. Plus, Eric Brady (Greg Vaughan) is also back in Salem. The timing is impeccable and the devil will eventually be defeated. However, can Jake and Gabi get back their relationship, or has the damage already been done?
What do you think Jake is going to do once Ben tells him about "JoDevil?" How will Jake get back the woman he loves before it's too late? Share your thoughts and remember to keep watching the NBC soap to see what happens next.
Be sure to catch up on everything happening with DOOL right now. Come back often for Days of Our Lives spoilers, news, and updates.