Days Of Our Lives (DOOL) Spoilers: Will A Guilt-Ridden Chad Make Things Right Before E.J. Gets in Trouble?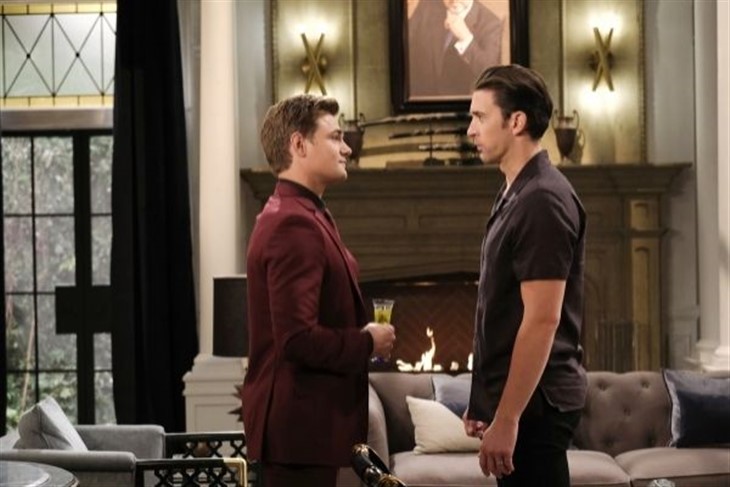 Days of Our Lives Chad Dimera (Billy Flynn) is about to learn that E.J. Dimera (Dan Feuerriegel) did not kiss his wife at the courthouse. Once Chad realizes that Johnny Dimera (Carson Boatman) is the one behind this devilish action, will his conscience get the best of him?
Days of Our Lives Spoilers – Chad Dimera Knows The Truth
Days of Our Lives Chad knows the truth about Sami Dimera's (Alison Sweeney) kidnapping. Chad has been covering for Lucas Horton (Bryan Dattilo) since he found out the truth months ago. Kate Roberts (Lauren Koslow) knows the truth as well. However, Kate is trying to protect her son now that he is happy with Sami. Chad was about to confess to framing E.J. when he saw him kissing Abby Dimera during the trial. Unfortunately, it was Johnny or "JoDevil" who had changed himself to look like E.J. to upset Chad. Johnny's actions got him E.J.'s interest in Dimera Enterprises.
DOOL Spoilers – The Devil Frames Belle Black
The Devil is bound and determined to keep everyone in the dark about Johnny's possession. However, Days of Our Lives Belle Black (Martha Madison) may not be the best person to frame for his evil doings. After all, John Black (Drake Hogestyn) and Marlena Evans (Deidre Hall) are bound to discover the truth when they try to save their daughter. Will Belle convince her other that Johnny is the one who is possessed? Can Johnny be stopped before it is too late for the residents of Salem?
Days Of Our Lives Spoilers – E.J. Dimera Is Keeping Dangerous Company
Days of Our Lives E.J. is keeping dangerous company now that he is cellmates with Clyde Weston (James Read). After all, Clyde is the person who caused E.J. to get shot and took him away from his family for years. E.J. may not win his appeal and will be looking for a way out of prison. Clyde is a master at prison breaks and could get years added to E.J.'s sentence or even get him killed. Once Chad sees that E.J. is making nice with Clyde he may be ready to make a move. If Clyde gets the chance to pull E.J. into a prison break, he may not get out of prison when the truth does come out. Could Chad be forced to tip his hand when he learns about the possession?
Johnny is young and is bound to slip up even with the devil in control. Will the truth come out before E.J. gets himself into a bigger mess than he's already in?
Be sure to catch up on everything happening with Days right now. Come back here often for Days Of Our Lives spoilers, news, and updates.