Days Of Our Lives (DOOL) Spoilers: Lucas Goes On The Run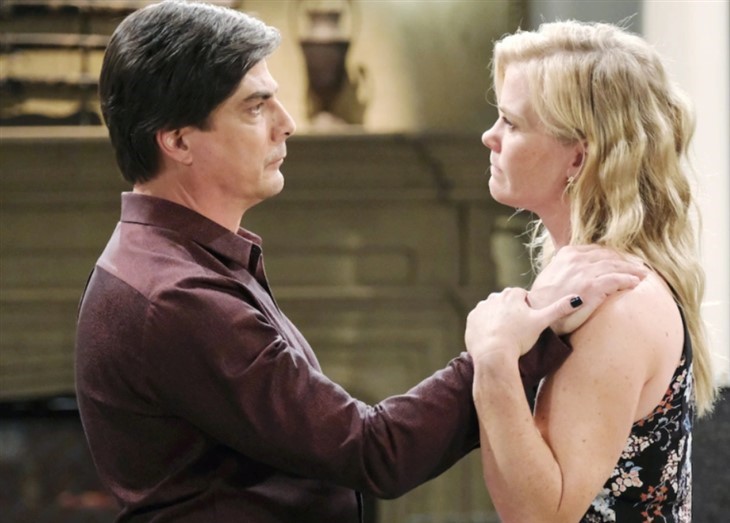 Days of our Lives (DOOL) spoilers tease that Lucas Horton (Bryan Dattilo) has been a naughty boy. Unable to secure the love of Sami Brady (Alison Sweeney) he did the next logical thing any spurned lover would do, he kidnapped her. Until he rescued her. None are the wiser yet, despite MarDevil (Deidre Hall) threatening to expose him as Sami's captor/hero.
But his free ride as Sami's liberator is fast coming to an end. Our inside source at NBC has spilled that before Lucas is exposed for the tormentor he is, he will resort to desperate measures.
Days Of Our Lives Spoilers – Does Lucas Horton Kidnap Sami Brady And Go On The Run?
For weeks 'who kidnapped Sami' was trending as fans debated on social media who did the dirty deed. A long tail of suspicion swirled around EJ DiMera (Dan Fuerreigel). He had means and he had motive. The cuckolded man had just learned that Sami and Lucas reconnected physically and that was enough to throw her out of the DiMera mansion.
Fans saw someone come up from behind her and chloroform her and just like that she disappeared from Salem. Her loved ones wasted precious time trying to find her until Lucas saved the day. Yea! Or maybe not—when he revealed he was the one behind the kidnapping fans did not see that coming. Kudos to the writers on that one.
DOOL spoilers – EJ DiMera Takes The Fall
Fast thinking Lucas arranges for EJ to take the blame, but he howls long and hard at the police station that he wasn't the guilty party. When Nicole Walker (Arianne Zucker) goes over the list of who would have had reason to steal Sami, Lucas' name comes up and it all makes sense.
Then MarDevil blackmails Lucas into doing its bidding in exchange for keeping the truth. With the noose tightening, Lucas panics. And when Lucas panics, bad things happen.
Days Of Our Lives spoilers – What Happens Next In Salem?
Our NBC inside source hears that Lucas Horton will skip town before he can be connected to Sami's kidnapping. Our source declined to say if he will disappear alone, or drag someone along with him, say the object of his outsized affections, his baby momma Sami. Our source also clarifies one important part of the plot, Lucas acted alone in kidnapping Sami. Where will Lucas go to hide out and how long will he be gone? We'll tell you as soon as we hear something, come back here often DOOL fans!
Be sure to catch up on everything happening with DOOL right now. Come back here often for Days of our Lives spoilers, news, and updates.