Brooke Logan Has Been Married This Many Times On The Bold and the Beautiful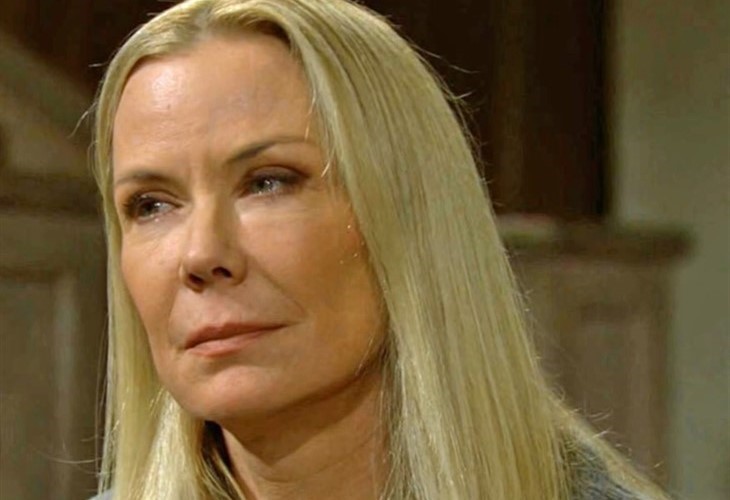 The Bold and the Beautiful (B&B) spoilers tease that Brooke Logan (Katherine Kelly Lang) splits opinion among the fan base. A lot has to do with her being the female version of Liam "Waffler" Spencer (Scott Clifton). In other words she's got a roaming eye and has been married. A lot.
She and Ridge Forrester (formerly Ronn Moss, now Thorsten Kaye) have been married legally seven times. From there she's made her way through the forest and into the trees, ie, the Forrester family tree. Let's add up all the times Brooke has been married.
The Bold And The Beautiful Spoilers – Brooke Logan Has Been Married Many Times
As of today, Brooke has been married to Ridge for roughly four years. They married in 1994, 1998, 2003, 2004, 2012, 2018, and in 2020, just for funsies. Actually, it was to re-pledge their troth after Thomas Forrester (Matthew Atkinson) caused a rift between them.
Brooke married Eric Forrester (John McCook) twice. Did we mention he is Ridge's dad?
When Ridge married Caroline Spencer (Joanna Johnson) Brooke turned to his dad, she got pregnant and eventually he divorced his wife Stephanie Forrester (Susan Flannery) and married Brooke. They have two kids together, Rick Forrester (Jacob Young) and Bridget Forrester (Ashley Jones). Then in 2005 these crazy kids re-tied the knot in Vegas, only for it to become undone once again.
B&B Spoilers – How Many Times Has Brooke Logan Been Married?
No worries though, there are plenty of Forrester men for Brooke to rifle through. Brooke married two of Ridge's brothers: Thorne Forrester (Winsor Harmon) and Nick Marone (Jack Wagner). In the show's recent 35th anniversary special devoted to the community mattress, erm, we mean Brooke, she dreamed about Thorne and Nick.
The Bold And The Beautiful Spoilers – Why Has Brooke Been Married So Many Times?
Brooke also married two men not related to Ridge. These were Whipple Jones (Rick Hearst) and Grant Chambers (Charles Grant). Obviously those marriages did not last.
Also, Brooke married her sister's ex-husband Bill Spencer (Don Diamont). To be fair, Katie Logan (Heather Tom) told her to, so what choice did she have?
Katie had postpartum depression and left town to cry alone in a dingy room while rain streaked down the windows. Once the sun came out, Katie realized she wanted Bill after all, but it was a day late and a Dollar Bill too short.
And there you have it the official scorecard of Brooke's Bedroom, also the name of her lingerie line. Ew?
Be sure to catch up on everything happening with B&B right now. Come back here often for The Bold and the Beautiful spoilers, news, and updates.