B&B Spoilers Wednesday, February 2: Grace Threatens Carter – Steffy Furious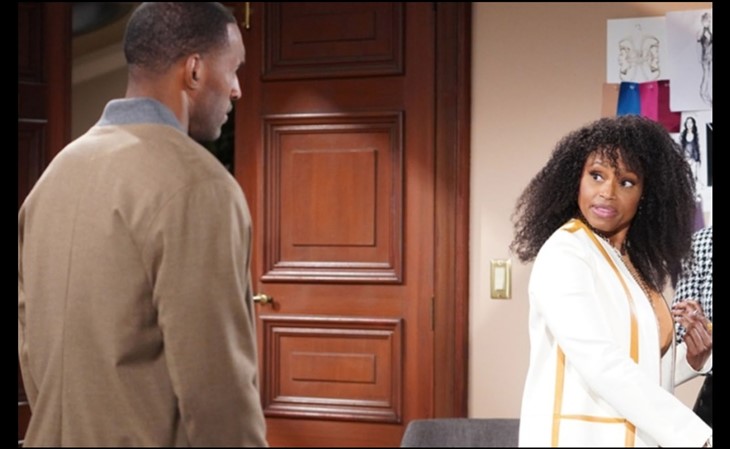 The Bold and the Beautiful (B&B) spoilers for Wednesday, February 2, 2022, reveal Carter getting a very surprising earful from Paris Buckingham's mother.
The Bold And The Beautiful Spoilers – Carter Walton Better Watch His Back
Carter Walton (Lawrence Saint-Victor) may have hit the brakes on whatever was going on between him and Paris, but that doesn't mean Grace Buckingham (Cassandra Creech) is no longer worried. She wants her daughter to marry a Forrester despite Paris telling her she is not ready to marry anyone. She's young and doesn't want that kind of commitment in her life yet.
Grace can see there is something there between Paris (Diamond White) and Carter and makes a threat to Carter if he doesn't stay far away from Paris. She has some information about Carter that he definitely doesn't want to come to the surface.
Could it be the fact that he was seeing Quinn Fuller (Rena Sofer) before Eric Forrester (John McCook) gave permission for that to happen? Or does she know something about the lawyer that even the audience doesn't know? And isn't Grace a little more age-appropriate for Carter? Hmmm…
B&B Spoilers – Steffy Forrester Is Ready To Go After Brooke Logan
Knowing for sure that it was Deacon Sharpe (Sean Kanan) who Brooke Logan Forrester (Katherine Kelly Lang) was kissing on New Year's Eve makes perfect sense to Steffy Forrester (Jacqueline MacInnes Wood) now. Knowing that Brooke tried to get Douglas Forrester (Henry Joseph Samiri) to keep that secret just makes Steffy angrier with her stepmother. Plus, now that Taylor Hayes (Krista Allen) is back in town she wants Ridge (Thorsten Kaye) and her mother together again. With Brooke kissing another man, she thinks she can make that happen and tells Thomas (Matthew Atkinson) her plans.
Except that Thomas isn't so sure that Steffy should rock the boat. He has worked so hard to be on the straight and narrow and get his life together that he doesn't need any more trouble. Then again, Hope (Annika Noelle) and Brooke did try to manipulate his young son into lying and that doesn't sit well with the new and improved Thomas, who realizes the damage he caused with Douglas and never wants to go there again. Stay tuned to The Bold and the Beautiful weekdays to find out.