B&B Spoilers: Taylor Figures Out What Sheila Has Done – Will She tell Ridge?"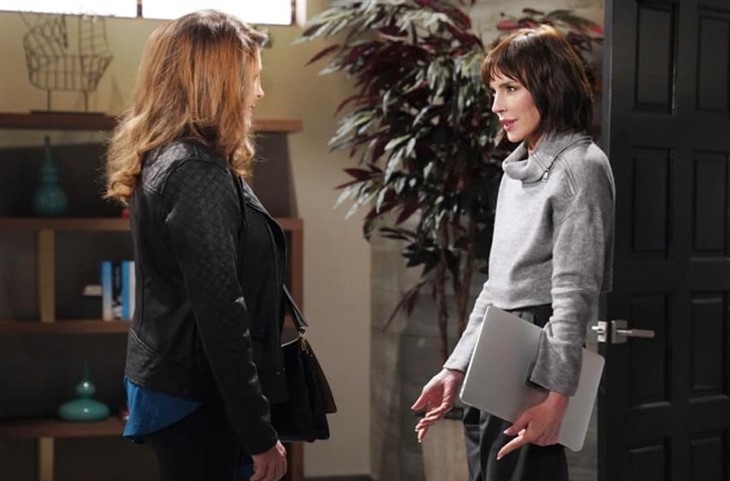 The Bold And The Beautiful (B&B) spoilers indicate that Sheila Carter (Kimberlin Brown) may give away too much and Taylor Hayes (Krista Allen) will figure out what she has done. If Taylor realizes that Sheila messed with Brooke Logan's (Katherine Kelly Lange) booze, will she tell Ridge Forrester (Thorsten Kaye)?
The Bold And The Beautiful Spoiletrs – Taylor Hayes Wants Ridge Forrester
The Bold And The Beautiful's Taylor makes no secret of the fact that she still loves Ridge. Ridge has been with Brooke all these years and he is devoted to her. Taylor feels that she knows what happened at Brooke's house on New Year's Eve. However, once Taylor realizes that Sheila is behind everything should go to Ridge and tell him the truth. Taylor could help Ridge to save his marriage, but will she? Will Taylor be the bigger woman and tell Ridge the truth or will she side with Sheila and continue to go after a married man?
B&B Spoilers – Ridge Forrester Loves His Wife
The Bold And The Beautiful's Ridge loves his wife and doesn't want to give up on their marriage. However, Ridge feels like Brooke has cheated on him and will not go back to her because of Deacon Sharpe (Sean Kanan). Ridge feels that Brooke is defending Deacon because she has feelings for him. Ridge is furious that Brooke would take Deacon's side even though she knows Deacon did not spike her drink. Once Ridge cools off, will he go back to Brooke where he belongs? Will Ridge still feel like he needs to stay away because of the drama with Brooke? Ridge doesn't believe he can do this anymore, is he wrong?
The Bold And The Beautiful – Thomas Forrester And Steffy  Forrester Manipulate The Situation
If the Bold And The Beautiful's Thomas and Steffy hadn't manipulated the situation, Ridge would have already been home. Thomas is hiding Ridge's phone and deleting voicemails to make Ridge think that Brooke doesn't care. While all this is going on, Taylor sits there and grins like a teenager. Once Taylor sees what her children have done as well, perhaps she will explain everything to him. Will Taylor be honest with Ridge in the end?
Ridge needs to be with his wife who he loves. Steffy and Thomas need to stop pushing Ridge to do what they want. Will Taylor support him by being honest in the end? Will Ridge and Brooke be able to patch things up when the truth comes out?
Be sure to catch up on everything happening with B&B right now. Come back here often for The Bold And The Beautiful spoilers, news, and updates.