B&B Spoilers: Steffy Hears All About Sheila's Antics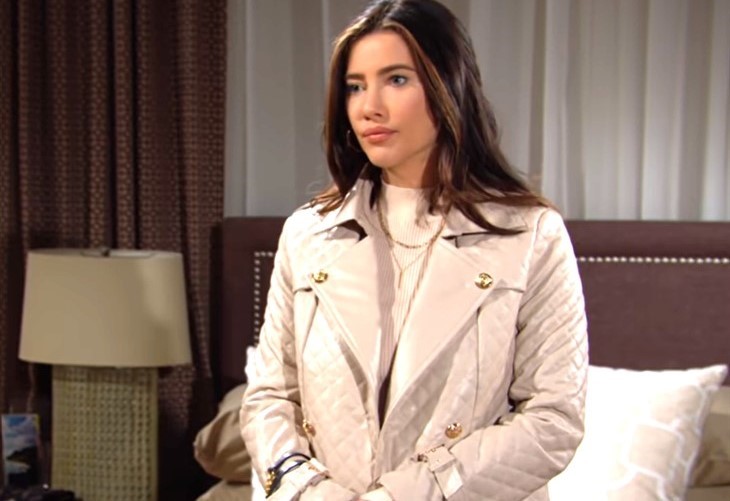 The Bold and the Beautiful (B&B) spoilers for Wednesday, March 30, 2022, reveal Steffy finally figuring out what's really going on.
The Bold And The Beautiful Spoilers – If These Walls Could Talk
Sometimes it seems like the walls at Forrester Creations do indeed talk, but it's really the employees and management ofen having very loud conversations about very personal matters. That's what happens between Thomas Forrester (Matthew Atkinson) and Sheila Carter (Kimberlin Brown) on Wednesday when they discuss the big secret of how Brooke Logan Forrester (Katherine Kelly Lang) really got drunk on New Year's Eve. Thomas wants to tell the truth but the problem is, Steffy Forrester Finn (Jacqueline MacInnes Wood) overhears everything, as people are apt to do on this show.
Now that Steffy knows the truth, what will she do with the information? She certainly doesn't run to Sheila, Thomas, Brooke, or Ridge (Thorsten Kaye). It doesn't occur to her that they should be the first people who know that she knows, but that is not how Steffy thinks or operates. She knows who she has to talk to and it could get pretty ugly.
B&B Spoilers – Steffy Forrester Confronts Her Husband
Steffy decides she is going to take matters into her own hands and also thinks she has ammunition against Sheila in Finn's (Tanner Novlan) eyes. He was finally growing to accept Sheila in his life and let the past be the past, but now her bad deeds are in the present. Surely, Finn will listen to his own wife now, right?
It looks like Steffy might need more than that to get Finn to see the light. He is ready to forgive Sheila for all her past deeds, but what if those past deeds just continue into the present. While Finn is stunned that Sheila did this, he thinks she must have had a better reason than just playing games with people's lives for sport.
Steffy can't help but become exasperated with her husband at this point. So, he does what she feels she has to do and heads out to find Sheila. These women are finally going to have it out once and for all. Stay tuned to The Bold and the Beautiful weekdays to see how these stories play out.