B&B Spoilers: Ridge's Full Of Rage— Thomas's Evil Scheme And Taylor's Lie Sends Him Reeling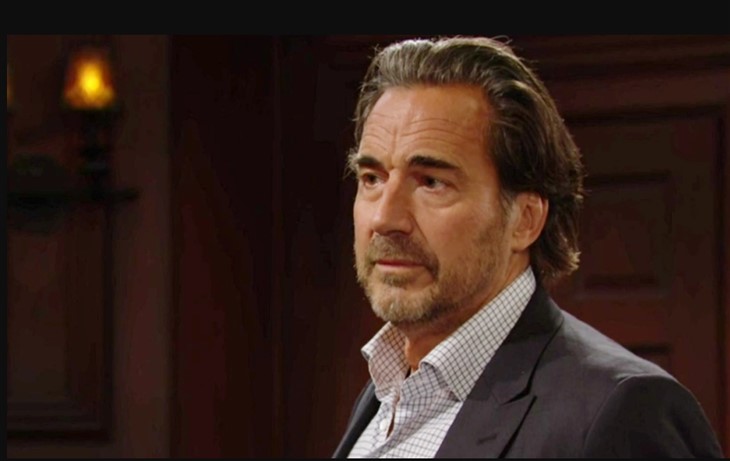 The Bold and the Beautiful (B&B) spoilers tease that Ridge Forrester (Thorsten Kaye) can't fight his feelings of rage over Thomas Forrester's (Matthew Atkinson) evil scheme. He cannot believe his son stooped to such levels to oust Brooke Logan (Katherine Kelly Lang) from his life.
Adding his frustration, Ridge learned that Taylor Hayes (Krista Allen) planned to marry him without telling him about Thomas's sinister plot. Taylor pointed out that she planned to marry him and not reveal the truth behind the CPS call.
Taylor quickly changed the subject, begging Ridge to honor his promise to her and marry her. She suggested they talk about the CPS lie after they get married.
The Bold And The Beautiful Spoilers – Ridge Forrester's Full Of Rage– Taylor Hayes's Lie Blindsided Ridge Forrester
B&B viewers knew that Thomas's deception would hurt Ridge. He thought he could trust his son after he had been doing much better for several months. Little did he know, Thomas planned a move that would break his marriage to Brooke.
The person he never expected to hurt him in this situation was Taylor. He expected honesty from her. But she deceived him.
She planned to marry him without revealing the truth about the CPS call. After Ridge confronted Thomas about his deception, he turned his attention to Taylor. He raged that she planned to marry him without telling him the truth.
Taylor admitted that she planned to get married without telling Ridge the truth. She didn't think Brooke mattered in their relationship, so Taylor felt that exposing the lie and putting him against Thomas was not warranted.
Then she asked the question everyone wanted to know. "Ridge, are you going to marry me today and fulfill all the promises you made," Taylor tearfully asked Ridge.
B&B Spoilers – Ridge Forrester And Thomas Forrester's Relationship Strained
Thomas and Ridge have been in this place many times. Several years ago, Thomas slept with Caroline Spencer (Linsey Godfrey), Ridge's then-wife, after drugging her. Caroline became pregnant. Ridge knew the baby couldn't be his child as he had a vasectomy. It later came out that Douglas Forrester (Henry Joseph Samiri) was Thomas's son. It was something that hurt Ridge, an action that damaged the father and son relationship.
Now, Ridge is facing the same situation. His son did something unforgivable and displayed zero remorse for his actions. He expects Ridge to accept the ordeal, rationalizing his actions because he just wanted his father to marry his mother.
B & B fans, should Ridge forgive Thomas for faking the CPS call? Keep watching Bold and the Beautiful, airing weekdays on CBS and streaming on Paramount Plus. This site is a leading source for everything linked to The Bold and the Beautiful. Check back regularly for B&B spoilers and news!