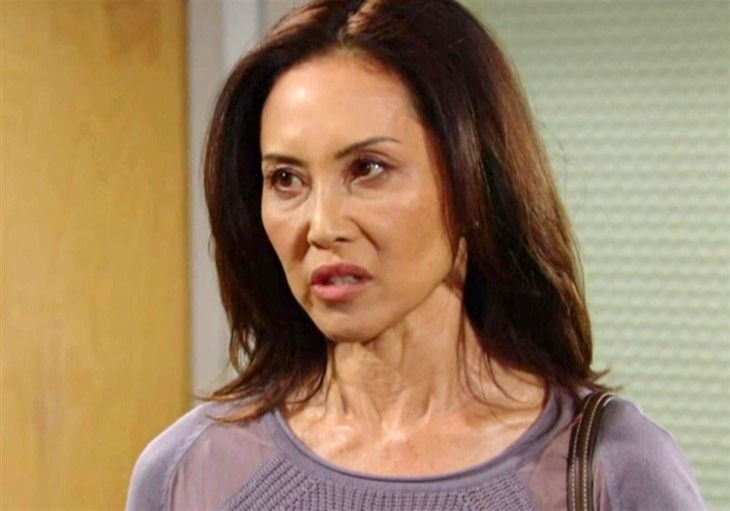 The Bold and the Beautiful (B&B) spoilers for Wednesday, May 25, 2022, reveal Steffy needing closure that Li just won't give her.
The Bold And The Beautiful Spoilers – Protecting Finn
Steffy Forrester (Jacqueline MacInnes Wood) is starting to realize the conversation she had with Li Finnegan (Naomi Matsuda) might have been a little off. Why won't this woman accept that her son is dead and at the very least hold a memorial for him? Why would she cremate him without even telling his wife that is what's happening. Steffy needs her own closure and Li is not going to help her get it, so maybe they an help one another.
At least that is what Steffy hopes when she reaches out to Li once again but doesn't get the reception she wants. Little does Steffy know that Li has very important things to do and that includes Finn (Tanner Novlan) has everything she needs in the hotel room she seems to have turned into a hospital room. She may be a doctor but does she really think she can take care of Finn by herself? Does she even have someone helping her? Is Jack Finnegan (Ted King) aware of any of this considering we haven't seen him at all since the shooting? What is really going on here?
B&B Spoilers – Brooke Logan Is Ready To Meddle Again
Now that Brooke Logan Forrester (Katherine Kelly Lang) knows why she drank on New Year's Eve and that it wasn't her who decided to do it, she has time to make sure Hope Logan Spencer (Annika Noelle) never loses Liam Spencer (Scott Cifton) to that horrible stepdaughter of hers.
Brooke does not like all the time Liam is spending with Steffy and Kelly and expresses her concerns to Hope. Dollar Bill (Don Diamont) had already told Hope to just think of Liam as being on loan for a while and she was getting comfortable with that, but now Brooke is putting more ideas in her head that is going to make her paranoid.
Perhaps Brooke should stay out of her children's lives and think more about how she is going to get Ridge Forrester (Thorsten Kaye) back, since that has not been accomplished yet. Stay tuned to The Bold and the Beautiful weekdays to see how these stories play out.