B&B Spoilers: Li Is Alive – Naomi Matsuda Back On Set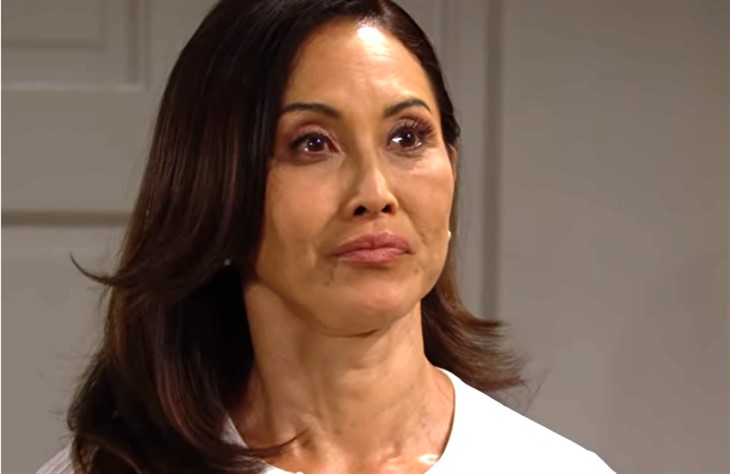 The Bold and The Beautiful (B&B) spoilers and updates reveals Li Finnegan is alive! Naomi Matsuda who has been playing the role of Li Finnegan on The Bold and the Beautiful was on set when the show celebrated John McCook's Daytime Emmy Award win for Outstanding Lead Actor in a drama series.
The Bold and The Beautiful Cast and Crew Gather To Celebrate John McCook
The cast and crew gather to celebrate the actor who got his start as Lance on The Young and the Restless in 1975. After 47 years of only being nominated, the actor finally took home a trophy for his hard work on the CBS daytime drama at the 49th annual Daytime Emmy Awards on June 24, 2022. The celebration of course welcomed those on set and from a picture shared, we saw Matsuda amongst those who were on set. So this of course leads us to believe that she was filming.
Li has been hard at work trying to keep Finn (Tanner Novaln) alive via the machines hoping that he would wake up soon. She did all of this secretly until Sheila (Kimberlin Brown) figured her out and broke out of prison, paid her a visit and then discovered that Finn was really alive. Li put up as much resistance as she could. She fought hard to keep Sheila away but she wasn't strong enough to outdo the great powerful villain, Sheila Carter.
The Bold and The Beautiful Spoilers – Li Finnegan Tried To Outsmart Sheila Carter
Upon realizing who was truly up against. Li came up with a new idea. She would try to trick Sheila into believing they were in it together. Li then told Sheila that she needed to make a run to get some medication for Finn. Sheila was reluctant at first but after they discussed it, Sheila decided to let Li go. Unfortunately, Li wasn't smart enough to the end because she made a call while Sheila was listening and the confrontation got ugly.
Li tried making a run for it but Sheila trailed her. Sheila followed Li in her car and drove her right off the road into a pool of water as Li's car went up in flames. Viewers were led to believe that Li could be dead but with the actress now back on set, we can safely say Li somehow survived.
Be sure to catch up on everything happening with B&B right now. Come back here often for The Bold and the Beautiful spoilers, news, and updates.