B&B Spoilers: Brooke Can Still Be Saved – Unexpected Twists Change Anticipated Reveal?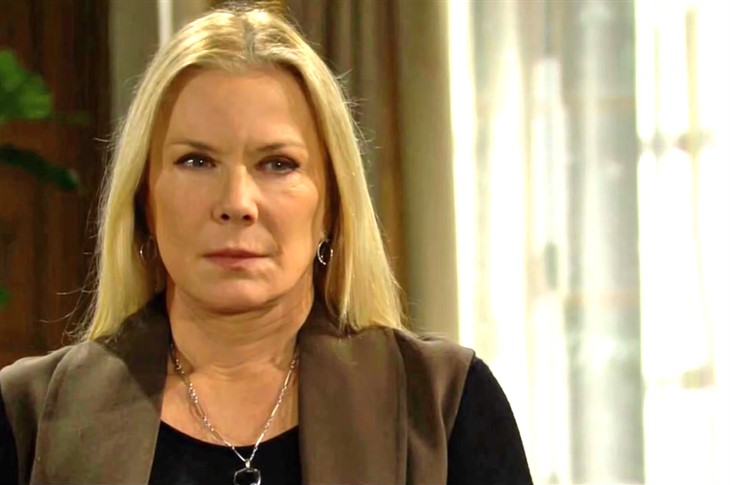 The Bold and the Beautiful (B&B) spoilers document that Brooke Logan Forrester's (Katherine Kelly Lang) position is perilous. What happened with Deacon Sharpe (Sean Kanan) is sure to be revealed.
However, twists are part of soap opera lore. So, Brooke's fate does not have to end in a divorce to Ridge Forrester (Thorsten Kaye) if Lang's iconic B&B character takes a needed step along the way.
The Bold And The Beautiful Spoilers – Ridge Forrester Loves His Wife
Brooke has something going for her that no one can overcome. Ridge loves her like no other woman on the planet. And that includes Taylor Hayes (Krista Allen).
So, even though daytime fans know that Brooke's secrets will be exposed in a mega reveal or a series of exposures, there is a way to address the damage and save her marriage.
Brooke's drinking problem is real. As long as Sheila Carter's (Kimberlin Brown) dastardly deed is exposed, then Brooke has a chance to gain her husband's sympathy and support, despite the terrible mistake she made with Deacon.
B&B Spoilers – Lying Can Not Be Wished Away
Attempting to tell Ridge that she thought he would go berserk if he learned what really happened after Hope Spencer (Annika Noelle), Liam Spencer (Scott Clifton), and their children left the mansion on New Year's Eve is not a reasonable explanation. But that is what fans are likely anticipating Brooke will do.
Ridge will be even more disgusted if he also learns that Brooke attempted to silence his grandson, Douglas Forrester (Henry Samiri), and also co-opted Hope and Liam into that effort. But if Brooke is positioned as the victim of Sheila's moral crime, then this storyline could climax differently than anticipated.
The Bold And The Beautiful Spoilers – Deacon Sharpe Exposes Reality
The audience has seen that Sheila is sniffing around. She has already confirmed that Brooke and Deacon were drinking together. But other crucial elements do not appear to be known.
Deacon will do anything for Brooke. He loves her, which means that her well-being is paramount.
Sheila's current weakness is her intent to hurt Brooke. That makes Sheila dangerous while also vulnerable to slipping up.
Brooke needs Deacon to unveil Sheila in her traditional villain role. Lang's character would be the first person he tells if that happens. Of course, Deacon's life would be in danger if Sheila believes he will betray her.
Yes, multiple twists are possible as this compelling tale unfolds on B&B.
This site is a leading source for everything linked to The Bold and the Beautiful. Check back regularly for B&B spoilers and news!