90 Day Fiancé Alum Tiffany Franco Reveals Weight Loss Before And After
Tiffany Franco is one of the latest 90 Day Fiancé stars to impressively lose weight. In fact, after undergoing gastric sleeve surgery in 2021, she is only 18 pounds away from her goal weight of 190 pounds. Read on to find out more about Tiffany's latest Instagram Story.
90 Day Fiancé alum Tiffany Franco losing weight
Like many of her 90 Day Fiancé co-stars, Tiffany Franco has been making great strides in her weight loss goals. In fact, since undergoing gastric sleeve surgery in 2021, she is now only 18 pounds away from her goal weight of 190 pounds. The 90 Day Fiancé star truly impressed her followers with her recent Instagram Story, but sharing a before and after post.
Fans will recall Tiffany from her appearance with Ronald Smith on season 1 of 90 Day Fiancé: The Other Way. She met Ronald on a visit to South Africa and quickly fell in love. When Smith proposed, Tiffany was quick to accept his proposal. However, later, she found out about his criminal past and gambling addiction, things he hadn't mentioned to her before.
Meanwhile, Franco welcomed her second child, Carley Rose in 2019, who joined her son from a previous relationship. However, the problems with Ronald's past made it difficult for him to move to the US. Later, fans watched the couple in season 6 of 90 Day Fiancé: Happily Ever After? During that season, their marriage fell apart, and Tiffany called Ronald an irresponsible father.
It was in 2021 that the couple officially split and at that time, Tiffany started getting serious about improving her health. At that stage, she underwent gastric sleeve surgery and one year later, she has shed 80 pounds of weight. Since that time, Franco has reunited with Ronald and is looking better and better with every Instagram post.
Tiffany shares before and after weight-loss images
As Tiffany gets closer to her goal weight of 190 pounds, this means she has lost almost an amazing 100 pounds since starring on the show. While hosting an Instagram Q&A, Tiffany happily answered all fans' questions, telling them to keep her "busy." When one follower asked the TLC reality star to post a "before and after" photo, Tiffany happily obliged. Readers can see the astounding change in the Instagram Story shared here: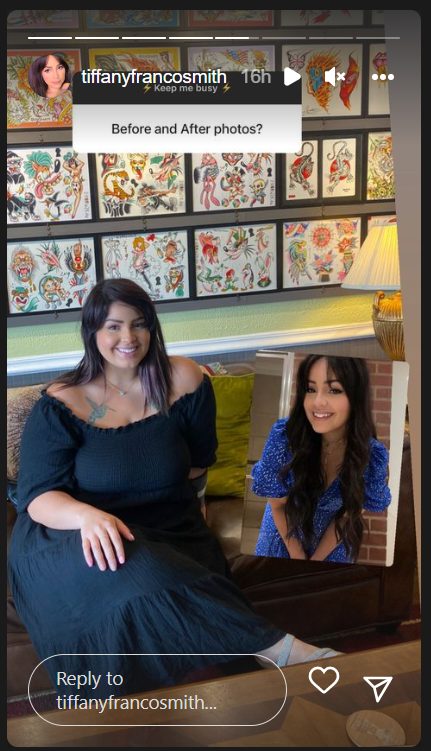 Tiffany's before image shows her seated in what seems to be a tattoo artist's studio, wearing a dark blue dress. The "after" inset reveals a stunningly beautiful Tiffany, wearing a dress in a lighter blue shade and a beaming smile. The Tiffanys in those two images could truly be different people, except for that gorgeous smile.
Many of her followers are no doubt wishing Tiffany would return for a season of 90 Day Fiancé: Happily Ever After?
In the meantime, 90 Day Fiancé airs on TLC, Sundays at 8 pm ET and on Discovery+.