90 Day Fiancé Alum Jorge Nava And Rhoda Blua Share Wedding Photos
Since splitting from Anfisa, 90 Day Fiancé alum Jorge Nava has now married his baby-momma, Rhoda Blua.
It has been quite a while since we saw Jorge Nava on the TLC reality show 90 Day Fiancé with Anfisa Arkhipchenko. As fans know, he has since met the love of his life, Rhoda Blua, and they have a baby together. However, finally, Rhoda has made an honest man of Jorge by getting married. Jorge recently shared a beautiful image from his wedding.
90 Day Fiancé Sppoilers – Alum Jorge Nava And Rhoda Blua
It is relatively rare to see former 90 Day Fiancé stars truly get their lives together. However, after Jorge Nava and Anfisa Arkhipchenko split when he was behind bars, he found true love. Since falling in love with Rhoda Blua, she and Jorge have a beautiful baby girl, Zara. Finally, Nava and his longtime girlfriend have officially tied the knot. In fact, according to TMZ, the couple wed in Las Vegas
Jorge recently shared a romantic, black-and-white image from his wedding on his Instagram. He captioned the image, "Forever after today." One of his former fellow cast members, Paola Mayfield was thrilled with the news and commented on Instagram writing, "Wishing you guys the best!! You deserve it!!!❤❤❤"
Meanwhile, one follower rightfully commented, writing, "How much he's changed since the tv show and jail. Proud of how much he accomplished."
90 Day Fiancé Spoilers – Love At First Sight
It was soon after his release from prison that Jorge met Rhoda and it was love at first sight. He shared beautiful images of Blua on social media. Since then, she has become the mother of his children and finally, Jorge and Rhoda have tied the knot in a chapel in Las Vegas. Reportedly, the happy couple spent time with another couple, hanging out and gambling at The Cosmopolitan Hotel and Casino. It took a while, but finally, Jorge and Rhoda share photos from their wedding.
Rhoda's black and white image shows the couple gazing into each other's eyes. She captioned the image, "I see forever in your eyes ♥." Meanwhile, Jorge was quick to comment on her Instagram post, writing, "And I see forever in yours mami."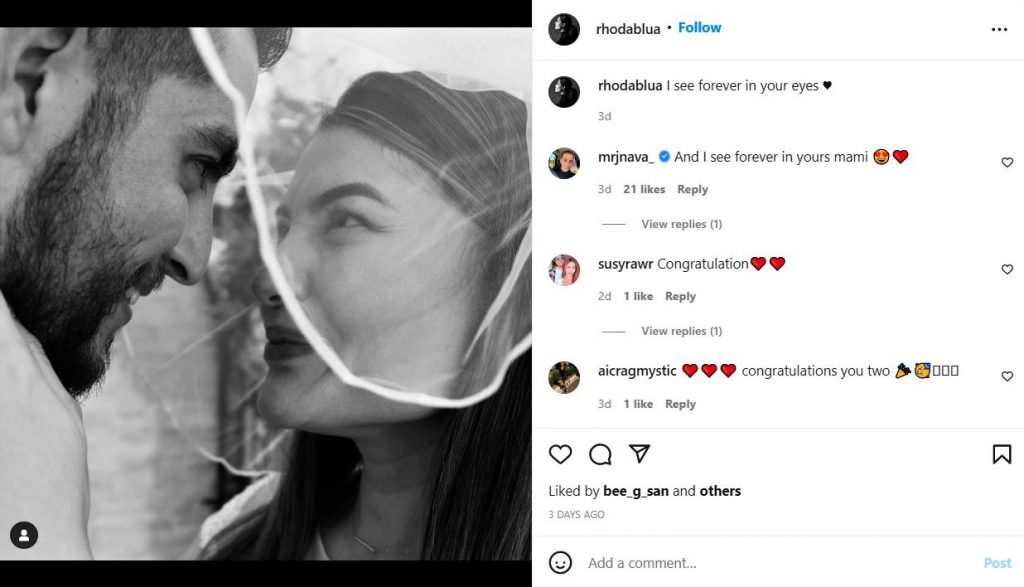 It is always wonderful to see life work out for a 90 Day Fiancé alum who went through so much. Anfisa has moved on and has an excellent career, and now Jorge and Rhoda have wed. We wish Jorge and Rhoda all happiness after their romantic wedding. We also wish them a wonderful life together, with their two children, Zara and George.
Meanwhile, fans can watch the latest season of 90 Day Fiancé on Sundays at 8 pm ET on TLC.