The Bold And The Beautiful Spoilers: Zende and Paris Falling In Love – Zoe's Threats Backfire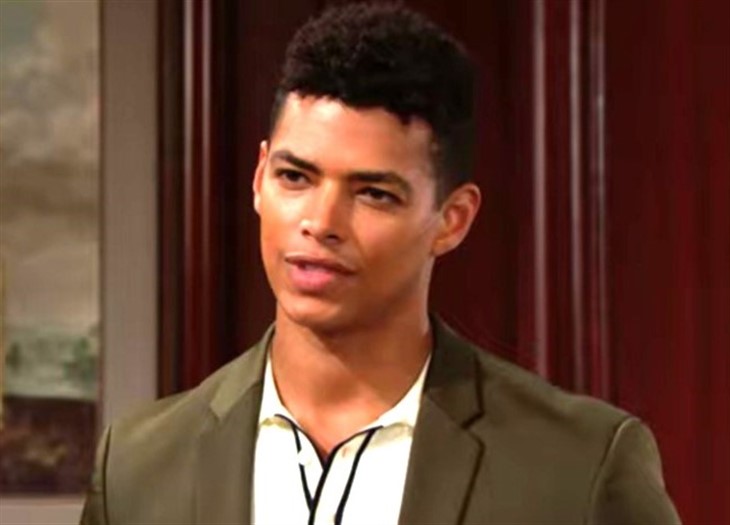 The Bold and the Beautiful spoilers tease that in Los Angeles Zende Forrester Dominguez' (Delon de Metz) influence thankfully convinced Paris Buckingham (Diamond White) to stay in Los Angeles, California. The job opportunity that Carter Walton (Lawrence Saint-Victor) developed, which was then offered by Ridge Forrester (Thorsten Kaye), was obviously ideal. But Zoe Buckingham (Kiara Barnes) opposed it from the jump.
Carter was miffed at his fiance's totally unexpected reaction. But Zoe talked him into rethinking his conclusion, which sent him to search for Ridge. In the meantime, Paris met with Zoe and got an earful from her jealous and petty older sibling.
The Bold And The Beautiful Spoilers – Zende Forrester Dominguez Won't Allow It
Paris was touched by Zende's protective stance. He told Paris that he wasn't going to allow her to reject the job offer, or leave LA.
Zende's feelings have shifted in recent weeks. While he was instantly attracted to Zoe, her engagement to Carter served as a deterrent to any romantic pursuit he was considering.
The development of a mutual attraction between Zende and Paris should have been something that Zoe supported. But that hasn't happened and now, has been exacerbated by Zoe's odd reaction to the career opportunity that Paris was given.
B&B Spoilers – Paris Buckingham Deserves Happiness Too
Paris was apparently alone in the world before she arrived in California. The fans know that the sister's father, Reese Buckingham (Wayne Brady), is incarcerated, as a result of the Beth Spencer (Madeline Valdez and River Davidson) scam. But no information is available about their mother, or mothers, which is a plot hole that begs to be filled in the future.
Unless Zoe was horribly wronged by Paris, her behavior is unjustifiable and reprehensible. Zoe is the, in effect, head of the Buckingham family. So, she should be looking out for Paris instead of trying to run her out of town.
The Bold And The Beautiful Spoilers – Zoe Buckingham Will Face Repercussions
There's sure to be personal repercussions that result from Zoe's words and actions. Paris is going to be staying in town and likely forming a relationship with Zende, which seems to be the real reason why Zoe is bent out of shape.
Daytime Soap Ratings For the Last Week Of 2020 Are In, The Winners and Losers HERE! #yr #GH #DOOL #BoldandBeautifulhttps://t.co/VKlTK7NEIX

— SOS/CTS/HH (@SoapOperaSpy) January 8, 2021
It appears as though Zoe wants her choice of two men, Carter and Zende. But Carter is the man she's agreed to marry and Zende is falling for her sister. This tightening situation is heading toward a multi-character conflict, with Zoe's true thoughts likely to be exposed in time.
SOS is a leading source for everything linked to The Bold and the Beautiful. Check back regularly for B&B spoilers and news!