The Bold And The Beautiful (B&B) Spoilers: Sheila Toys With Steffy – Zende On High Alert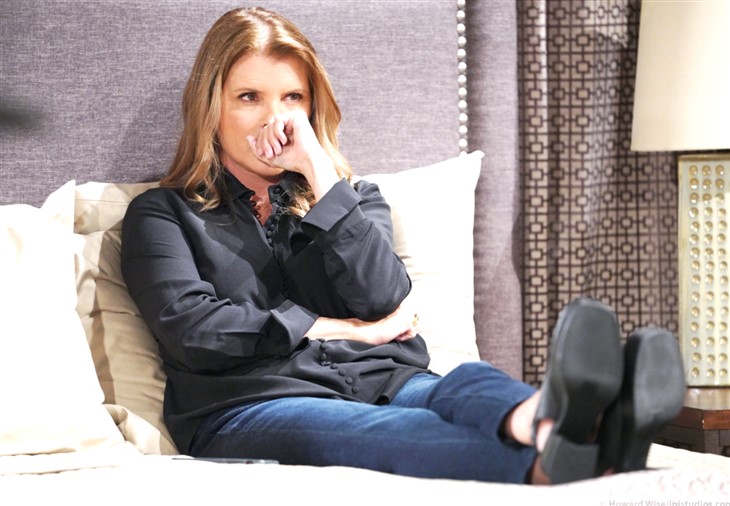 The Bold and the Beautiful (B&B) spoilers for Wednesday, September 8, 2021, reveal in Los Angeles Sheila Carter going low to prove a point — and to emotionally torture Steffy Forrester.
The Bold And The Beautiful Spoilers – Sheila Carter Toys With Steffy Forrester As Only Sheila Carter Can
Steffy Forrester (Jacqueline MacInnes Wood) has had it with Sheila Carter (Kimberlin Brown) in her life and her new kinda-sorta husband calling this crazy woman his mother. The woman who raised him is his mother and Sheila is the person who took away Steffy's mother during her childhood. She knows Sheila faked her little fainting spell and when Finn (Tanner Novlan) isn't around, she lays into the woman as she lays in a hospital bed and cackles.
You see Sheila has something she can use to toy with Steffy's emotions — she has emojis. Yes, she uses the emojis Finn sent her when he had no idea what to actually say in response to her texts. Steffy didn't even know Finn had been in communication with Sheila before she showed up in her living room to hold Hayes, but she knows now and she is not happy. All of this time, Steffy has been defending Finn to Ridge (Thorsten Kaye) and Brooke (Katherine Kelly Lang) and now she is not sure if she was right to do so.
B&B Spoilers – Zende Forrester Is On High Alert
Meanwhile, Paris Buckingham (Diamond White) is growing more and more obsessed with Finn and can't get him out of her mind. He is so much on her mind that Finn is all she can talk about to Zende (Delon De Metz) What a predicament he finds himself in. For some reason, Paris can't help but sympathize. The problem is, Zende sees how weird this is and points it out to Paris. He wants to know what's going on and Paris can't exactly answer him.
Does he make her realize that maybe she's growing a little too close to a kinda-sorta married man — who happens to have a sociopath for a mother? Or does Zende just get sick of all of this and tell Paris maybe they shouldn't pursue their relationship until she figures out who she really wants. Stay tuned to The Bold and the Beautiful weekdays to see how these stories play out.