Next Week Days Of Our Lives (DOOL) Spoilers: Sarah's Surprise For Xander, 'Xarah' Having A Baby?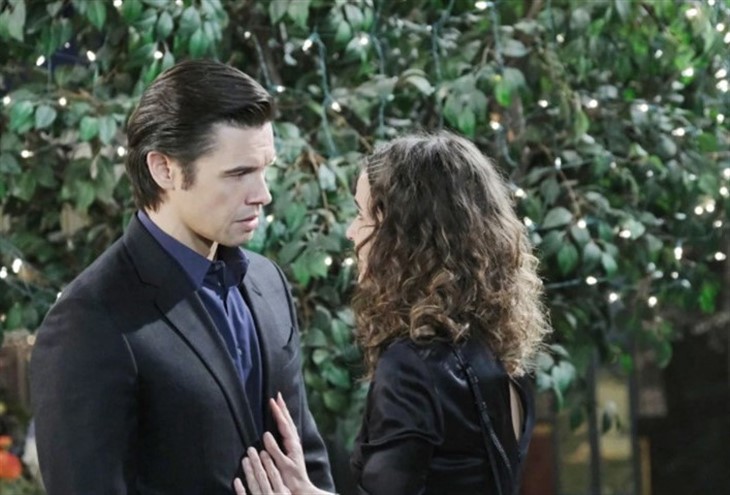 Days of Our Lives (DOOL) spoilers for next week of February 22 reveal that Sarah Horton (Linsey Godfrey) has a surprise for Xander Kiriakis (Paul Telfer). Could it be connected to her bringing a cake box into their bedroom? While Xander surprises her with a marriage proposal, Sarah has an even bigger surprise. Are the couple having a baby?
Days Of Our Lives Spoilers –  Kiriakis' Marriage Proposal
DOOL spoilers reveal that Xander might no longer have a job with Titan, but that's not stopping him from making big plans. He gets down on one knee and proposes to Sarah. It's clear she was not expecting Xander to ask her to marry him. However, she might not be the only one who gets a shock.
DOOL Recaps & Spoilers – Sarah Horton Stammers
Sarah was so stunned by the marriage proposal that she couldn't even give him a yes or no answer. Instead, she awkwardly shoved the cake box toward Xander. She asked him if he wanted some cake. Now, it might seem like a strange thing for Sarah to say, but let's focus on the cake for a minute.
Next Week Days Of Our Lives Spoilers – Bringing Cake To The Bedroom
Days of Our Lives spoilers reveal that Sarah came into the bedroom carrying a big cake box. Now, if this was for an event, celebration, or party involving the whole family, she wouldn't bring it to the bedroom. She would keep it in the kitchen or set it down somewhere downstairs. This, along with her tense reaction and non-answer to Xander's proposal suggest that the cake will reveal a huge surprise for Xander.
DOOL Spoilers – 'Xarah' Baby On The Way?
It's possible that "Xarah" might be having a baby. TV Guide reports that during the week of February 22, Sarah has surprising news for Xander. Sarah being pregnant would certainly be a happy shocker for Xander. It is also teased that "Xarah" will excitedly plan their future together. Previously it was believed that it had to do with their wedding.
Days of Our Lives (DOOL) Spoilers: Shawn And Belle Pregnancy Shocker, New Baby After All These Years? @soapoperaspy https://t.co/aSisdFEXKM #DOOL #Days #DaysOfOurLives

— SOS/CTS/HH (@SoapOperaSpy) February 19, 2021
However, it seems like they have a lot to celebrate and it will be a very busy year for Xander and Sarah. Unfortunately, no Salem wedding happens without drama. Plus, head writer Ron Carlivati teased to Soap Opera Digest that viewers will have to see if they actually get to tie the knot. As for the baby, we think Sarah will get to be a mother this time. It would be cruel to have her lose two children.
Do you think that Sarah Horton is pregnant? Will Xander Kiriakis eventually get an answer to his marriage proposal? Could we see a "Xarah" wedding and newborn this year? Or will something happen to rip the couple apart once again? We will have to keep watching the NBC soap opera to find out what happens with Xander and Sarah.
Be sure to catch up on everything happening with DOOL right now. Come back here often for next week Days of Our Lives spoilers, soap opera news, and Days cast updates.