General Hospital Spoilers and Rumors: Kristina Wants To Take Over Family Business! – Michael Intercedes To Prevent Tragedy?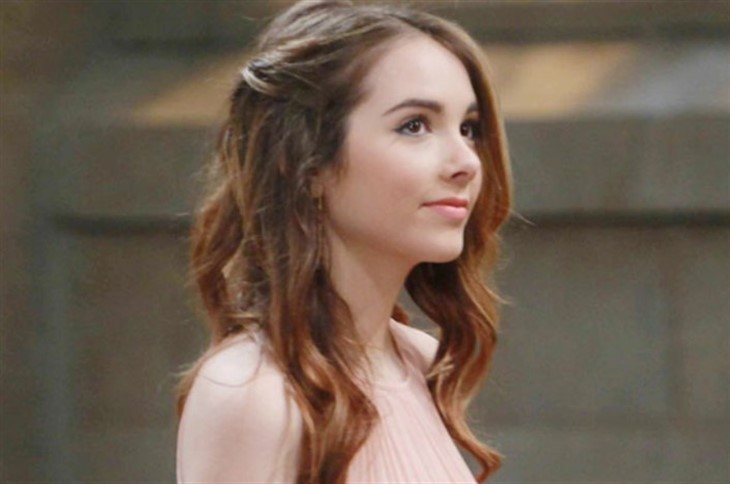 General Hospital (GH) spoilers tease that right now in Port Charles, NY Jason Morgan (Steve Burton) currently has his full. With Sonny Corinthos (Maurice Bernard) missing and presumed dead, Jason has single-handedly been trying to run Sonny's criminal empire although Carly Corinthos (Laura Wright) has made a few power moves herself. Arming herself and bringing backup of her own, Carly successfully saved Jason from Cyrus Renault's (Jeff Kober) ambush. Right after that, she ordered Cyrus' elderly mother be taken as leverage. It seemed for a moment as if Carly was enjoying the mob princess role a little too much, but she's backed off since then. But that doesn't mean there isn't a Corinthos heir out there who certainly may believe the family business is her birthright!
General Hospital Spoilers – Kristina Davis-Corinthos Believes She Is Next In Line!
In a perfect world, Michael Corinthos (Chad Duell) would be the logical choice with Sonny gone to run the business. But Michael made the decision long ago to focus on legitimate business opportunities. He's currently CEO of Aurora Media. But perhaps more importantly , Michael is now a father. Mob life means accepting a considerable amount of danger on a daily basis and as a new father, Michael won't want to make himself or his son Wiley Corinthos (Erik and Theo Olsen) any more of a target than they already are. But if Kristina Davis-Corinthos (Lexi Ainsworth) tries to jump in headfirst, then Michael might not have a choice.
GH Spoilers – Sonny Corinthos Told Kristina Davis-Corinthos That Out Of All His Children, She Is The Most Like Him!
And there's no reason Kristina couldn't eventually take her place as hear of the Corinthos Family Business, especially since Sonny once told her that out of all this kids, that she was the most like him. But Kristina isn't the most patient person in the world and may easily insist that she has plenty experience just watching Sonny for years. But in the mob, a bad decision or just a hint of indecisiveness and she could cause her entire family to be killed. And Sonny was right, she is the most like him but he worked his way up through the ranks and he had Jason to balance out his more destructive impulses.
General Hospital Spoilers – Will Michael Corinthos Step Into Mob Life In Order To Make Sure Kristina Davis-Corinthos Doesn't Make A Fatal Error!
So reluctantly, it would make sense if Michael temporarily joined the family business while Kristina learns the business inside and out. Truthfully, Michael taking over would be the only thing that would likely get Kristina to see reason. But once Michael gets a taste of that power and the rush that goes along with it, he may not want to leave But finally, Michael will be comfortable enough with Kristina to step aside, much to Willow Tait's (Katelyn MacMullen) relief. All will be peaceful; at least until Morgan Corinthos (last played by Bryan Craig) comes back!
General Hospital Spoilers: Maxie Jones Sets Out To Get Revenge, Who Will She Make Pay? #GH #GeneralHospital

— SOS/CTS/HH (@SoapOperaSpy) March 14, 2021
GH Spoilers – What Do You Think?
Is Kristina the most logical choice to run the Corinthos Empire? Or will Michael have to step into a life he never wanted in order to make sure Kristina is ready? And what happens when Sonny or Morgan finally come home? Mob life is a regular way of life in Port Charles, so stay tuned to General Hospital, airing weekdays on ABC. And don't forget to check back right here regularly for all your General Hospital news, information and spoilers!