Days Of Our Lives Spoilers: Philip Plays Dirty, Tries Luring Chloe Away From Brady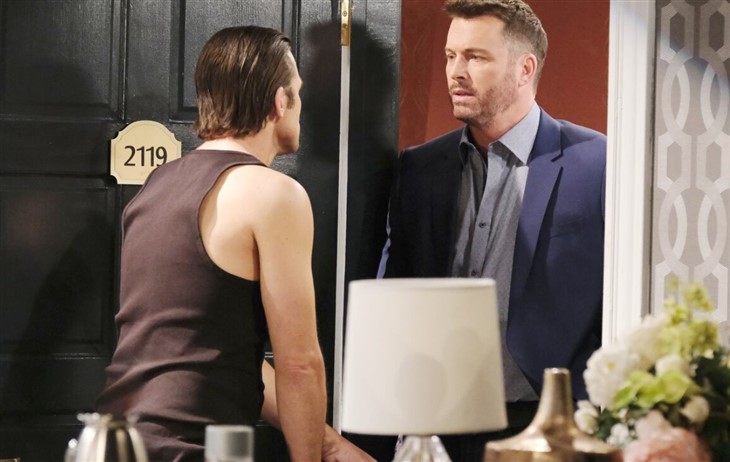 Days of Our Lives spoilers reveal that Chloe Lane (Nadia Bjorlin) is in a love triangle. Even though she has feelings for Brady Black (Eric Martsolf), Philip Kiriakis (Jay Kenneth Johnson) just can't let her go. He plays dirty and tries to lure Chloe away from Brady. Will he be able to do it or will Chloe be aware enough to know the games he is playing?
Days Of Our Lives Spoilers – 'Bhloe' Admit Their True Feelings
DOOL spoilers reveal that before the kidnapping, Brady found out how Chloe really felt about him. At first, he put distance in between them. He denied how he really felt because he was committed to Kristen DiMera (Stacy Haiduk). However, once he found out the truth about Kristen's body swap and sinister actions, he broke it off.
Now he is being open and willing to explore rekindling his former relationship with Chloe. The only problem is that Philip hasn't given up on Chloe. Once he saved her from Jan Spears (Heather Lindell), Chloe became a bit smitten with him.
DOOL Spoilers – Chloe Lane's Decision
In the hospital, Chloe was given two options of where she could stay to fully recover. She could either go home with Brady or stay with Philip. She decided to stay with Philip, but it's not because of her crush. She explained to Brady that the reason is due to him being freshly broken up. She doesn't want to just be a rebound. She also thinks that he needs to deal with his feelings about the loss of his relationship with Kristen.
Days Of Our Lives Spoilers – Brady Black Grieves Destroyed Relationship
Days of Our Lives spoilers reveal that Brady will take the time to lick his wounded pride. Sure, he loved Kristen but it's more about everything he did to get people to accept her. When it came to change, he truly believed that Kristen was becoming a decent woman. It turns out that everyone else was right and he was wrong
DOOL Spoilers – Philip Kiriakis Plays Dirty
Soon, Brady will be ready to move on and it seems that Chloe can't stay away from him. As the two navigate a possible relationship, Philip isn't going to just stand by and watch. During the week of June 21, Brady and Chloe will be getting closer. Philip decides that he's going to play dirty and try to lure Chloe away from Brady.
Will she fall for his tricks, making her decision about the love triangle even more difficult? Or will she know exactly what's going on and choose to be with Brady? We will have to keep watching the NBC soap to find out what happens next with this love triangle.
Be sure to catch up on everything happening with DOOL right now. Come back often for Days of Our Lives spoilers, news, and updates.