Days Of Our Lives Spoilers: Can Marlena Save Herself From The Devil This Time?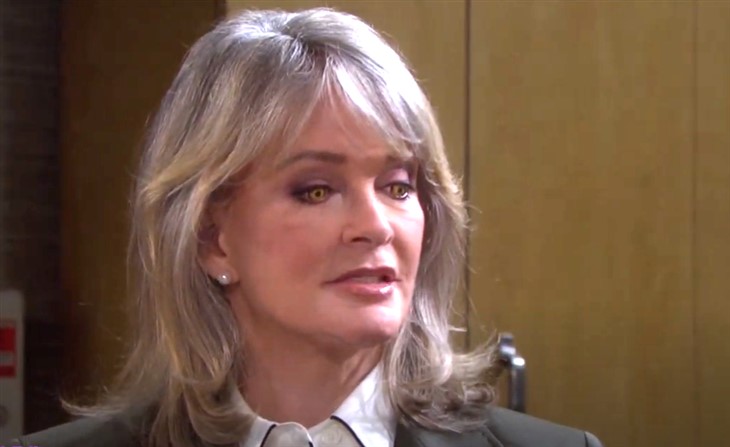 Days of Our Lives (DOOL) spoilers suggest that Marlena Evans (Deidre Hall) may have to save herself and John Black (Drake Hogestyn) from the Devil this time. Can Marlena save them both before the Devil kills John?
Days Of Our Lives Spoilers – The Devil Is Stronger Than Ever
Days of Our Lives Marlena is struggling to get control after agreeing to be possessed to save Doug Williams (Bill Hayes). However, while Marlena isn't in control the devil is trying to get rid of John once and for all. Marlena is fighting with all her might to keep John safe but the devil's control is much stronger than before. The devil has also picked up more powers that are already being used against John. The devil will torture John in the church while Marlena struggles to regain control. Meanwhile, Doug is in danger as well if Marlena doesn't comply with the devil's demands. With John out of commission, Marlena may be forced to save herself and John. Is it possible that Marlena can win this fight? John fought for Marlena with all his might the last time. Who is going to save the two of them now?
DOOL Spoilers – John Black May Be Held Captive
Days of Our Lives Marlena could easily tie John up downstairs and tell everyone that he is on an ISA mission. If someone doesn't find John and release him, the devil could manage to kill him. Marlena is getting weaker and cannot continue to protect John at this rate. Will someone else intervene and help the couple? Will both John and Marlena survive this possession?
Days Of Our Lives Spoilers – Could Ben Be Their Saving Grace?
Days of Our Lives Ben Weston (Robert Scott Wilson) and Ciara Weston (Victoria Konefal) are trying to have a baby. Marlena has been the one encouraging Ben to go along with Ciara's wishes. Could Marlena say sometime to tip Ben off that the devil is involved? Perhaps Marlena will find a way to warn Ben that the devil wants his baby. Could the former serial killer truly be redeemed by battling the devil for not only his baby but Marlena and John as well? Can Ben and Ciara's baby be saved now that the devil is involved?
The devil has to be stopped somehow, could the movie that Johnny Dimera (Carson Boatman) is making be the key to stopping the devil? Will the plan backfire and the devil be sent back to the depths of hell by the movie the devil pushed to be made? Is The Marlena Evans Story the key to stopping the devil?
Be sure to catch up on everything happening with Days right now. Come back here often for Days Of Our Lives spoilers, news, and updates.