Days Of Our Lives (DOOL) Spoilers: New Babies Kidnapped! Who took Eli Grant And Lani Price's Twins?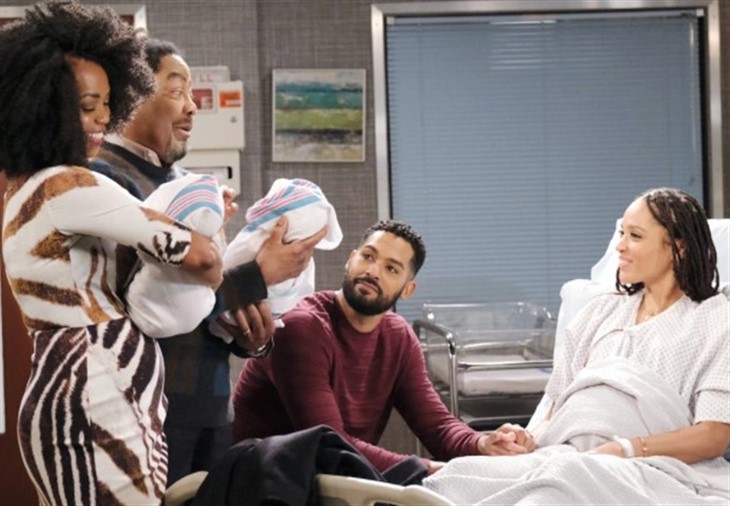 Days of Our Lives (DOOL) spoilers tease that Eli Grant (Lamon Archey) and Lani Price's (Sal Stowers) Christmas miracle will lead into their worst nightmare in the new year. After a rough year, Eli and Lani reconciled just in time for Lani to deliver twins on Christmas! But just when it looks like all their troubles are behind them, something happens that turns their world upside down.
Very soon, Days of Our Lives spoilers tease the twins will go missing from the hospital and Lani and Eli will have to use their detective skills as well as their parental intuition to bring their twins back home. But who is responsible for this heinous act? Let's take a look at a couple possibilities.
Days Of Our Lives Spoilers – Vivian Alamaine Has A Grudge To Settle With Lani Price!
As viewers may remember, there is some history between Lani and Vivian Alamaine (Linda Dano). Lani was in pursuit of Vivian who was trying to flee the country rather than go to jail for trying to kill Kate Roberts (Lauren Koslow). Lani warned Vivian to stop or she would shoot. Vivian ignored Lani's order, and Lani had no choice but to discharge her weapon. But seemingly out of nowhere, Vivian's son Stefan O. DiMera (Brandon Barash) jumped between the bullet and his mother. Stefan was shot in the neck and was taken to University Hospital, where he was stabilized, but with no reported brain activity. So after being taken off support, Stefan died.
DOOL Spoilers – Vivian Alamain Faked Her Death After Trying To Kill Lani Price On Her Wedding Day!
Vivian has already tried to run Lani's big day not all that long ago. On the day of Eli and Lani's wedding, Vivian showed up ready to kill Lani for taking Vivian's son away. Vivian was foiled and taken to police custody. But Vivian had no intention of facing up to her crimes. She faked her death! As far as the citizens of Salem are concerned, Vivian is dead and gone. But she likely still wants to make Lani suffer for Stefan's death. Vivian is on her way back to Salem, if she isn't already there. And what better revenge for killing son, then to take Lani's newborn twins away from her? But there may be another possibility as well.
Days Of Our Lives Spoilers – Who Is Paulina?
Very recently, Days of Our Lives comings and goings spoilers revealed a brand new character named Paulina (Jackee Harry) who is somehow related to either Lani or Eli will play a major part in the kidnapping storyline. While it seems unlikely that Paulina herself has anything to do with kidnapping, she will seem to act suspiciously. Very little else is known about Paulina except she is in Harry's own words "fabulous". It's also been reported that Paulina will have a daughter of her own, which may be how Paulina ties into the kidnapping.
DOOL Spoilers – Is Paulina Protecting The Kidnapper?
The is only speculation at this point, but the fact that Paulina will have a daughter of her own and is somehow involved in the kidnapping storyline. What if Paulina's daughter was recently pregnant herself and lost the baby or babies tragically? This could lead to a break from reality. Perhaps she believes Lani and Eli's twins are actually her babies? Perhaps Paulina will worry that her own daughter is responsible for the kidnapping.
Days Of Our Lives Spoilers: Claire Feels Inferior To Dead Girl, Ciara And Charlie Trigger Mental Health Relapse #days #dool #DaysOfOurLiveshttps://t.co/YBm632x5ee

— SOS/CTS/HH (@SoapOperaSpy) January 3, 2021
Days Of Our Lives Spoilers – What Do You think?
Has Vivian returned to put into motion her ultimate revenge on Lani? Who is Paulina and how will she fit into the lives of the Carver and Price families? Does she actually have information that could find the twins? And how long will it be before Lani and Eli have their babies back where they belong? Very soon, a kidnapping will turn Salem upside down, so stay tuned to Days of Our Lives airing weekdays on NBC. And don't forget to check back here regularly for all your Days of Our Lives news, DOOL episode information and soap opera spoilers!