Days Of Our Lives (DOOL) Spoilers Friday, April 30: An Abigail And Gwen Showdown, Kristen Breaks Jake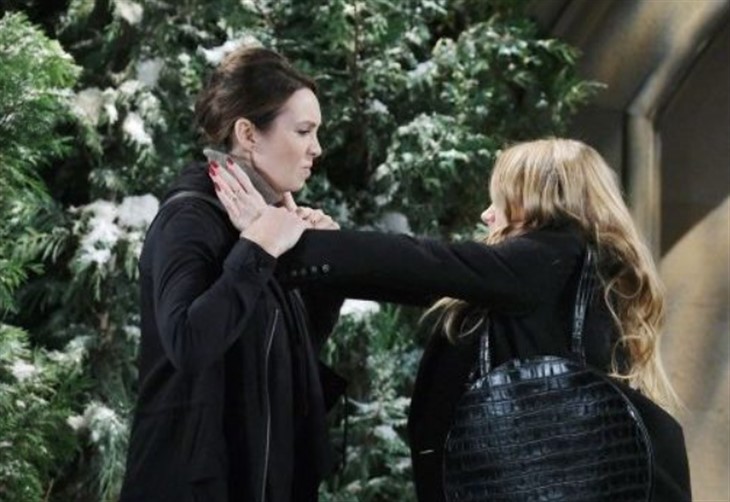 Days of Our Lives (DOOL) spoilers for Friday, April 30, 2021, reveal Abigail's anger out of control and Jake's heartbroken by someone he thinks he loves…but little does he know not everything is how it appears.
Days Of Our Lives Spoilers – Abigail DiMera's Anger
Just the idea of this interloper who turned out to be her sister having her husband's child is enough to drive Abigail (Marci Miller) mad. Forget being drugged. This pregnancy is about to throw Abby over the edge.
But not before she throws Gwen (Emily O'Brien) down the stairs…or does she? The two women fight, Abby reaches out, and Gwen goes tumbling. A perfect soap miscarriage scenario. But is it the real deal or is it a setup? (It almost reminds us of when Nelle staged a fight on the Quartermaine stairs on General Hospital and then blamed Carly for pushing her.)
Gwen did feel like something might be wrong with her baby. Does she lose the baby naturally and then find a way to set up Abigail? It certainly is an old soap trope. One of the oldest in the book.
DOOL Spoilers – 'Kate Roberts' Wants A Break
Kristen (Stacy Haiduk) has a Kate (Lauren Koslow) mask now and even can sound like her and become her height, so it's time to try it out on Jake (Brandon Barash). Yep, Jake falls for it when Kristen as Kate stuns him and breaks up with him. Does he eventually start realizing something is suspicious or has Kristen finally managed to do Vivian's (Linda Dano) bidding?
Don't forget that the real Kate might emerge at any minute because Kristen really didn't think this one through enough.
Days Of Our Lives (DOOL) Spoilers: Kate Roberts Fights For Her Lifehttps://t.co/cs5D6Iv0N8

— SOS/CTS/HH (@SoapOperaSpy) April 29, 2021
Days Of Our Lives Spoilers – Ben Weston Is About To Fall Apart
Poor Ben (Robert Scott Wilson) can't believe Ciara (Victoria Konefal) really and truly did leave town with Theo (Cameron Johnson) as if she never loved him or married him. In Ciara's mind, that's exactly what's going on because she can't remember their relationship at all. And now Ben is left all alone in Salem.
It's a good thing he has a friend in Claire (Isabel Durant) because he pays her a visit and tells her that he is sorry for everything. Claire just had to listen to Allie (Lindsay Arnold) tell her she is falling for Tripp (Lucas Adams), so is Claire becoming the new go-to friend for Salem's twentysomethings? Stay tuned to Days of Our Lives weekdays to find out.