B&B Spoilers: Ridge Exposes Quinn, Will Eric Admit To 'Agreement'?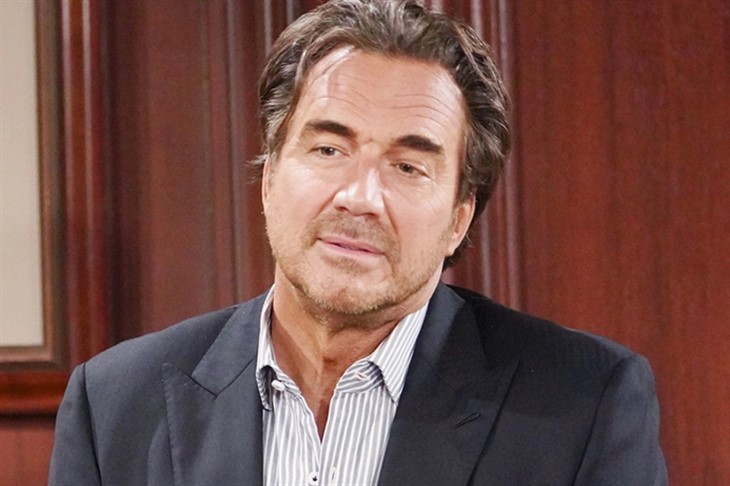 The Bold and the Beautiful spoilers reveal that Justin Barber (Aaron D. Spears) confronts Quinn Forrester (Rena Sofer) and Carter Walton (Lawrence Saint-Victor). Justin walks into Carter's bedroom and finds "Quarter" making out. Justin's next stop is to tell Ridge Forrester (Thorsten Kaye), who exposes Quinn's "cheating" to Eric Forrester (John McCook). How will Eric respond?
The Bold And The Beautiful Spoilers – 'Quarter' Caught in Bed
B&B spoilers reveal that Ridge has given Justin a special undercover assignment. Ridge is determined to find out what Quinn is up to in order to help Eric. As Ridge explained to Justin, he is sick and tired of Quinn making a fool of Eric. Ridge won't have to wait very long for results, though. During the week of September 27, Justin surprises Quinn and Carter as they are getting frisky in bed.
B&B Spoilers – Ridge Forrester's Rage
When Justin reveals that he found Carter and Quinn in bed together, Ridge will explode with fury. Even though Ridge suspected that Quinn was up to no good, he was really hoping that his gut instinct was wrong about this. Ridge feels he has no choice but to tell Eric what Quinn and Carter have been up to.
The Bold And The Beautiful Spoilers – Telling Eric Forrester
The Bold and the Beautiful spoilers reveal that Ridge goes to see Eric to tell him the news. As Quinn is standing with Eric, Ridge says that "Quarter" are still sleeping together. Ridge thinks that his father is going to be shocked, angry or in disbelief. However, Eric might not have the reaction that Ridge expects. Depending on how Eric responds, Ridge could just have a lot more questions than answers.
B&B Spoilers – Keep Secret Or Tell Truth?
There is no way that Eric will want anyone to know that he's allowing his wife to sleep with another man. Eric can come up with all the excuses and justifications in the world. However, even he knows how everyone will view this arrangement. Plus, McCook teased on Instagram that "one day" there could be a resolution. So, that suggests this story is not even close to being over yet. McCook's hint is what makes it seem likely that Eric doesn't tell Ridge the whole truth.
In fact, Eric might cover for both himself and Quinn by blasting Ridge for hiring Justin, who used to be Bill Spencer's (Don Diamont) minion. Ridge will be shocked and blurt out that Quinn cheated, but Eric might claim that Justin is probably lying. If Justin gave Ridge proof of "Quarter," Eric might say they are pre-reconciliation photographs or refuse to look at them at all.
If this happens, then Ridge and Brooke Logan Forrester (Katherine Kelly Lang) could be forced to do something extreme. Will their actions ever be forgiven by Eric, though? We will have to keep watching the CBS soap to find out.
Be sure to catch up on everything happening with B&B right now. Come back often for The Bold and the Beautiful spoilers, news and updates.