90 Day Fiancé Stars Loren & Alexei Brovarnik Welcome Second Baby Boy
On Monday, August 16, 90 Day Fiancé stars, Loren and Alexei Brovarnik were thrilled to welcome their second baby. Their 16-month-old son, Shai is now officially a big brother! The happy parents announced the news on Instagram this Thursday of the early and unexpected arrival of their new baby.
90 Day Fiancé stars Loren, Alexei and baby makes four
The 90 Day Fiancé stars announced their happy news on Thursday, August 19, that their baby son was born on Monday, August 16. In Loren's post, she shared images of the newborn in the neonatal intensive care unit (NICU) of the hospital.
Alongside the beautiful images, they wrote, "Truly a Thankful Thursday!! Babyboten has arrived, much early [sic] than expected." Loren wrote that due to some circumstances, their newborn baby is in the NICU, but is recovering well. They wrote that they can't wait to bring him home and start this next chapter as a family of four.
In a later video post, Loren said their baby boy came into the world late on Monday evening. She added that he "came in at a whopping 5 lbs., 9 oz., 19 inches tall." Loren noted that he is actually the same size that Shai was when he was born.
Thanking her followers for their love and support, Loren said she cannot wait to share him with them and for Shai to meet his brother. She concluded, saying, "From the bottom of my heart, thank you… I love you, stay tuned for more to come."
Alexei also made a post on his Instagram page, with a selection of photos of their baby boy in the NICU, writing that their baby son is "recovering well."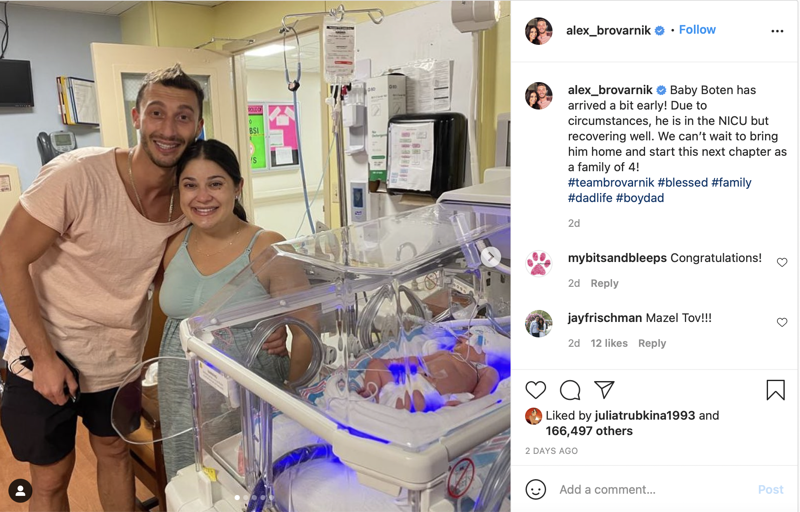 Loren: 'It's surreal!'
Speaking to Us Weekly, Loren and Alexei opened up a little more about the unexpected arrival of their son on Monday. They said, "Wow! And just like that, we're a family of four! It's so surreal!"
The proud parents said how excited they are to bring Babyboten home and see Shai being the "best big brother." They added that their baby wanted to come into this world earlier than expected and "on his own terms." He was born by C-section, weighing a "whopping 5 pounds, 7 ounces, and 19 inches tall." The happy parents again said how excited they are for this new chapter as a family of four.
Congratulations to Loren, Alexei and Shai Brovarnik on the arrival of their cute new family member. Surely all 90 Day Fiancé fans are looking forward to seeing more of this cute little boy.