90 Day Fiancé Star Ariela Opens Up After Pregnancy Reveal By Biniyam
ASK AM FOR PIC 90 Day Fiancé star Biniyam Shibre shocked his and Ariela Weinberg's fans recently by hinting that she was pregnant with their second child. In a loving video on Instagram, Biniyam looks at the camera and whispers, "She's pregnant." Followers of the fan-favorite couple were surprised to hear the news, but it turns out Biniyam was only joking.
TLC – 90 Day Fiancé – Star Biniyam Shibre And The baby Hint
After 90 Day Fiancé star Biniyam Shibre revealed on an Instagram video that Ariela was pregnant, fans were surprised and thrilled. However, Biniyam, who is the father to their first child, Avi, was apparently making a joke.
The video, included below, was shared by 90 Day Fiancé fan @90daythemelanatedway, with the caption, "Ummm… Is this an official announcement @biniyam_shibre @arieladanielle ??? Are congratulations warranted? I'm not sure what the etiquette is!?"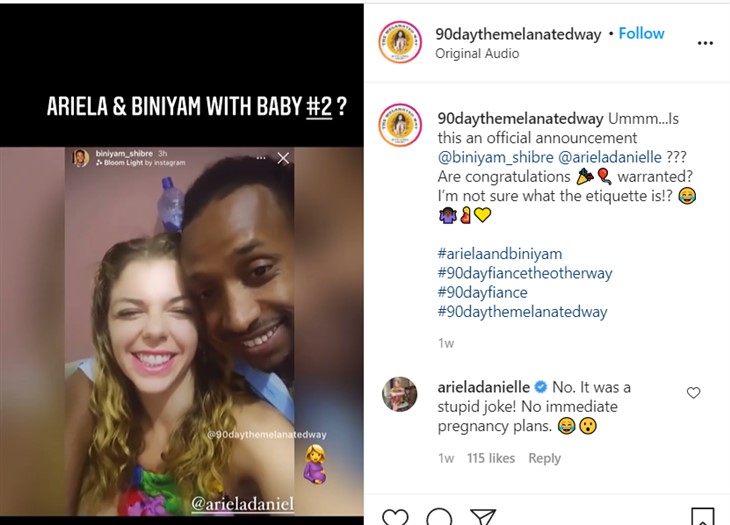 Fans will remember that Ariela and Biniyam starred in season 2 of 90 Day Fiancé: The Other Way season 2. On the show, fans saw Ariela flying to Addis Ababa to be with Biniyam after finding she was pregnant with his child. During that season, Ariela and Biniyam had plenty of rocky moments and many TLC reality show fans have wondered how they managed to stay together.
However, since then, many images and videos shared on Instagram reveal the couple as being very much together and in love. However, it isn't that long since they welcomed Avi into the world, so when Biniyam made the enigmatic statement, "She's pregnant," fans were shocked. Most were confused as to whether Biniyam was joking, or whether it was the real deal.
Since that time, Ariela has opened up in an Instagram Q&A, revealing the truth about her alleged pregnancy. When one fan asked, "Are you actually pregnant? Hubby said it on a post recently," Ariela quickly responded, writing "Definitely not." So there we are, no new baby on the way!
When a fan asked her if she does want more children in the future, she replied, saying, "maybe one." Ariela added that she might be open to adoption, but only if they have "tons of money."
TLC – 90 Day Fiancé – Ariela Weinberg Would Love To Be On 90 Day Fiancé Again
Another fan asked if Ariela would like to star on the TLC reality show again, Ariela said she would love to star on 90 Day Fiancé Pillow Talk if TLC would ask her to join. Other fans remarked on her incredible recent makeover, with her fit and slim body and new look hair. One asked if Ariela was dieting and she did admit she is trying to do "the high protein thing to build muscle." However, she has taken a break from the gym because she has apparently been "too damn sick."
While Ariela and Biniyam have always been fan-favorite couples, she has also shown her warm-hearted, charitable side. She recently launched a GoFundMe page for an Ethiopian burn survivor, Zuleya Tayib, and helped raise money to support the woman.
Let's hope that TLC watched her Instagram Q&A and will take her up on an appearance on 90 Day: Pillow Talk. With her pleasant nature, she would make a great addition to the team!