90 Day Fiancé Spoilers: Did Brandon And Julia Fake Their Pregnancy Scare Scenes?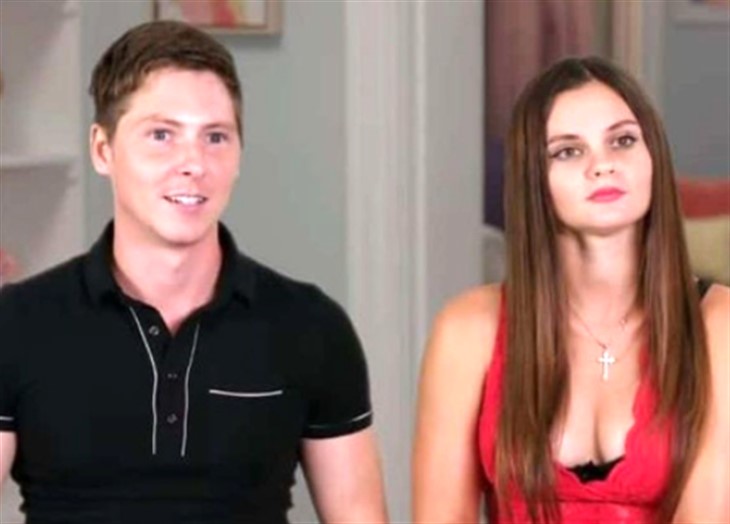 90 Day Fiancé spoilers tease that Brandon Gibbs and Julia Trubkina could have faked their pregnancy scare scenes on recent episodes of 90 Day Fiancé!
TLC 90 Day Fiancé Spoilers – Fans Think That The Whole Storyline Was Scripted
Many fans are of the opinion that possibly the whole pregnancy scare storyline was scripted, after they saw it play out onscreen in recent 90 Day Fiancé episodes. They think it was laid out in advance in the very first episode when Betty Gibbs made an appointment with her own gynecologist for Julia, wanting to ensure that she was on birth control from the start!
It seemed like a natural progression for Betty to try to force Julia onto birth control, which she refused, with Brandon eschewing condoms as well, then Julia getting nauseous in the car in the latest episode. Brandon favors the "pull out" method, which doesn't always work, because a few swimmers usually make it out the gate before the gate is actually opened!
Then there was all the forced separation of bedrooms, and Brandon and Julia forced to make love on the sly! Brandon announced Julia may be pregnant during a family game of Jenga to his shocked parents! But at the end of the episode, it turned out to be just a false alarm! Fans felt there were just too many coincidences to have really happened, and that the whole possible pregnancy storyline was an act! Julia was certainly nauseous, but perhaps the stress caused by Helicopter Mom Betty gave her an ulcer! Fans could certainly see that really happening!
90 Day Fiancé Spoilers – Things Were Looking Up For The Couple
Betty had just given in and allowed Brandon and Julia to share a bedroom right before the pregnancy scare happened. Brandon had threatened to move out with Julia but would he really let his umbilical cord stretch that far? Julia was miserable and nauseous as Brandon talked about her possible pregnancy and Ron Gibbs asked Brandon to purchase a home pregnancy test.
Even though it did turn out negative, Betty acted like she was going to have a heart attack that she WASN'T going to be a grandmother just yet! That seemed strange to fans too – especially considering her previously having tried to move heaven and earth, and Brandon and Julia farther away from each other to prevent an unplanned pregnancy! It took a little bit longer due to Brandon's work schedule, but he returned home and Julia was having near anxiety attacks waiting to find out if she was pregnant or not.
90 Day Fiancé Spoilers: Armando Rubio Reveals He And Kenny Niedermeier Packed On Some Pandemic Pounds https://t.co/0zGQRfj4ao pic.twitter.com/UFcFG5aJzj

— SOS/CTS/HH (@SoapOperaSpy) February 26, 2021
Fans in a popular 90 Day Fiancé Reddit group concluded that the pregnancy storyline was one hundred percent a fake storyline and scene, and noted that Brandon should have gone to a drugstore immediately as soon as he found out Julia was displaying symptoms of morning sickness!
The TLC camera crew should have been called to document everything on film also. Brandon told his mom to get more involved in their life when Julia and Ron told him to just get a test, and that seemed strange to fans. Brandon couldn't afford a baby and Julia wasn't ready to be a mother, and that was a situation full of drama! Others felt that if not totally faked, the storyline was at least manipulated!
Stay tuned to 90 Day Fiancé and keep checking 90 Day Fiancé spoilers frequently for all the latest news, updates and developments!