The Bold and the Beautiful' Poll: How Will Zoe Respond When Thomas Dumps Her?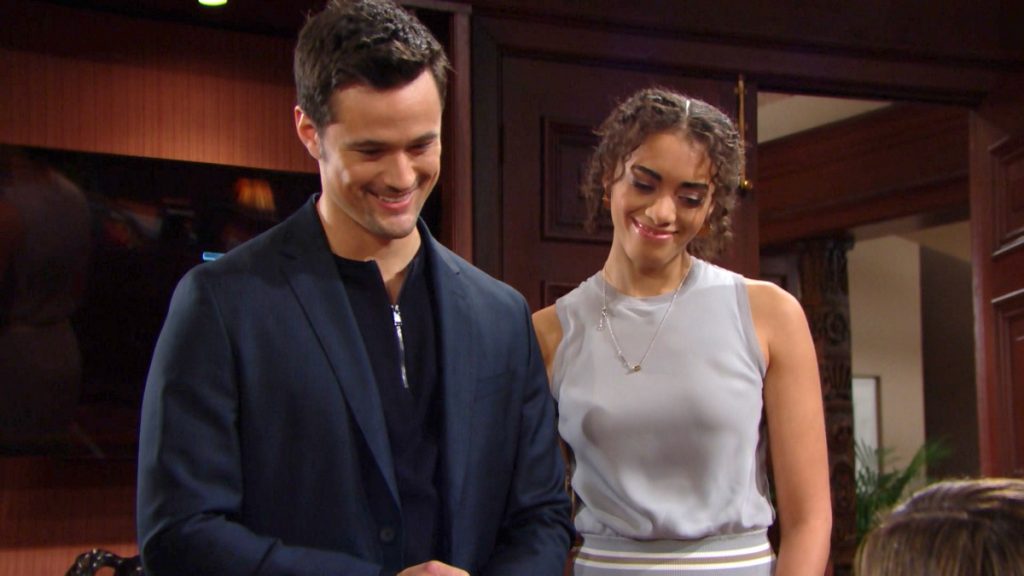 This is a question of when, not if on 'The Bold and the Beautiful'. Sure, it's possible that Zoe Buckingham (Kiara Barnes) leaves Thomas Forrester (Matthew Atkinson) before they're married, or voluntarily departs an assumed married 'Thoe'.
But assume that Thomas follows through with his engagement offer and actually completes a wedding ceremony with Zoe. At what point will his obsession with Hope Logan (Annika Noelle) and, or whatever mayhem he's involved in causing result in Zoe being jilted? And how will Barnes' character respond when that happens.
Bold And The Beautiful Spoilers – Thomas Forrester's Reckless Behavior Continues
Vincent Walker (Joe LoCicero) recently confirmed what was suspected. Thomas hasn't actually moved on from Hope. He still loves and wants to remarry her.
Romancing Zoe during the past few months and then opening a ring box in front of a purposely gathered crowd at the Forrester family estate was purposeful. As Hope, Brooke Logan (Katherine Kelly Lang), and Liam Spencer (Scott Clifton) believe, and others suspect, Thomas was putting on a show.
Atkinson's character wasn't trying to wow Zoe. He was playing up to Hope and pushing Douglas Forrester's (Henry Joseph Samiri) buttons. The plan worked, to a certain extent.
Bold And The Beautiful Spoilers – Hope Logan Aware Of Games
Hope is far wiser then she was leading into the initial 'Thope' marriage. The brief Mrs. Forrester continues to see that Thomas doesn't care how his actions impact Douglas, while also wondering how much of his act is purposeful.
Thomas shattered Hope's trust when his role in the Beth Spencer (Madeline Valdez and River Davidson) coverup was exposed. Noelle's character won't forget how his decision to withhold and exploit information about her child never having died denied her and Liam precious moments with their daughter.
Hope doesn't believe that Thomas has shifted his feelings to Zoe, assuming that he's using her to provoke a 'Thope' sequel wedding.
The Bold and the Beautiful Weekly Preview: Thomas Continues To Scheme – Steffy Forrester Is Suspicious https://t.co/FSgxVf3tL6 pic.twitter.com/U6uPWR11Af

— SOS/CTS/HH (@SoapOperaSpy) March 3, 2020
Bold And The Beautiful Spoilers – Zoe Buckingham Deserves Love
Xander Avant (Adain Bradley) was in a real relationship with Zoe when they lived in England. She apparently became too controlling and Xander felt the need to break things off.
Zoe didn't respond well and eventually tracked Xander to Los Angeles, California. B&B fans recall her possession of and conversations with a deceased cat during that time frame.
'Zander' eventually reunited after Emma Barber (Nia Sioux) voluntarily left Xander. But Bradley's character ended his second relationship with Zoe after fallout from the Beth arc proved too much for him to withstand.
Viewers can imagine what will happen when 'Thoe' falls apart, considering Thomas' public claim to be in love with Zoe and his open statement about the engagement offer not being a sham.
Fans of 'The Bold and the Beautiful' rightfully express their opinions on a regular basis. So, how will Zoe respond when she's jilted? Please vote in our poll!
This site is a leading source for everything linked to 'The Bold and the Beautiful'.