General Hospital Spoilers: Sasha Headed Down Dark Path – Comes Under Cyrus' Control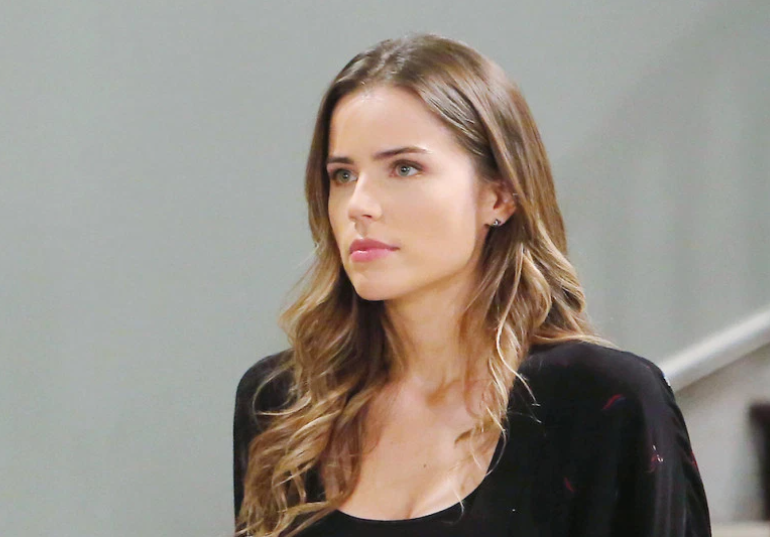 General Hospital Spoilers (GH) hint that Sasha Gilmore (Sofia Mattsson) may be heading down a dark path in upcoming episodes as she is having a hard time dealing with the loss of her relationship with Michael Corinthos (Chad Duell).
Sasha recently gave up her relationship with Michael in order to allow him to win custody of his son, Wiley Quartermaine-Corinthos (Eric and Theodore Olson). Sasha and Harrison Chase (Josh Swickard) decided to stage their fake affair in order to get their partners to break up with them and it seemed to have worked as Willow Tait (Katelyn MacMullen) and Michael have walked down the aisle and have gotten married to each other. However, this may have lead to Sasha's downfall.
General Hospital Spoilers – Sasha Gilmore Turns To Drugs
As viewers know, Sasha has recently ended things with Michael causing Michael to marry Willow. This was news hit Sasha harder than she expected, and the next day she woke up late, causing her to go to work late. Feeling down, she did not look well and could not keep herself from crying. After a talk with Chase, she was offered drugs, and it was revealed later that she took the drugs, which lead to her being in a better mood than before. This could lead to her becoming addicted to the substance in hopes to numb the pain from the breakup.
GH Spoilers – End To A Relationship Leads To An Addiction
This will connect her to the Cyrus Renault (Jeff Kober) storyline as the product that Cyrus is selling is drugs. So it would make sense that the drugs that she got may have come from Cyrus since it was explained that this is what he was once trying to bring through Sonny Corinthos' (Maurice Benard) territory.
Sasha's addiction may reveal that Cyrus might be shoveling drugs through Sonny's territory, which could lead to Sonny deciding to fire back at Cyrus sooner rather than waiting. On the other hand, this will be a new storyline for Sasha as well as she will have to fight through her new addiction.
5 General Hospital Characters Who Would Bring Drama To Port Charles If They Returned #GH #Generalhospital https://t.co/W2QKxSCrXo

— SOS/CTS/HH (@SoapOperaSpy) May 15, 2020
It seems that Sasha is going to go down a dark path in upcoming episodes and may even be getting her own storyline. What do you think? Are you looking forward to seeing a new storyline for Sasha? Are you shocked by how this will be connected to the Cyrus storyline?
We'll give you updates as GH news comes in. Stick with the ABC soap, and don't forget to check Celebrating The Soaps often for the latest General Hospital spoilers, updates, and news.
Share your thoughts in the Comments section below and join the CTS community, for all the Soap News Keep Visiting Soap Opera Spy, For all the Royal News & Brit Soaps, check out Celebrating The Soaps