General Hospital Spoilers and Recap Monday, May 25: Liesl Steals The Show – Sam Falls On Red Carpet – Dante Confronts Sonny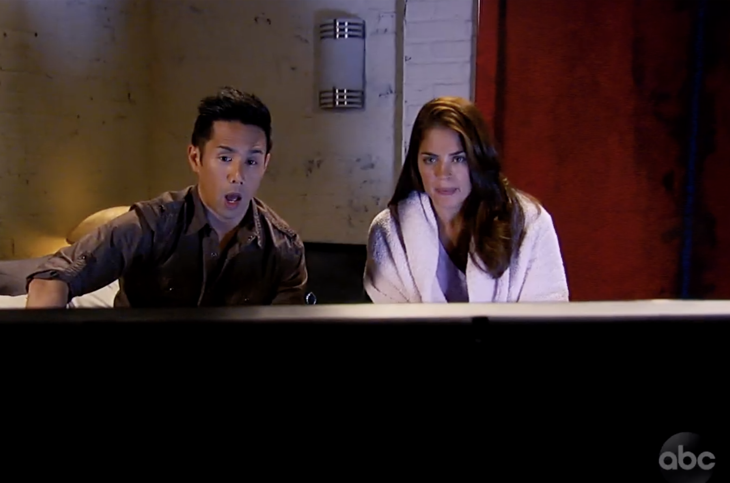 General Hospital (GH) spoilers recap for Monday, May 25, reveal that viewers saw an encore episode that originally aired on May 8, 2014. In the episode, Brad Cooper (Parry Shen) found Britt Westbourne (Kelly Thiebaud) in his apartment eating ice cream and watching TV. Brad noted that Britt was in the same place he left her this morning, and Britt lamented about having lost her son and Nikolas Cassadine (Tyler Christopher).
Brad didn't want Britt to wallow, but Britt pointed out that Brad wasn't hitting the town either since Lucas Jones (Ryan Carnes) dumped him. Britt just wanted to watch the show in peace, along with the red carpet show.
Meanwhile, over at Wyndemere, Nikolas watched TV while Spencer Cassadine (Nicolas Bechtel) colored a picture of a happy family. Spencer suggested that they invite Britt over, but Nikolas reminded Spencer that he and Britt were through. Spencer asked if Nikolas was going to be with Elizabeth Webber (Rebecca Herbst) now, and he said that he noticed the way Nikolas looks at her.
Soon, Elizabeth walked in, dressed in her gown for the Nurses' Ball. Nikolas said that he could have his driver bring Elizabeth home, but she said that wasn't necessary, since Ric Lansing (Rick Hearst) would bring her home. Cameron Webber (Michael Leone) walked in to tell his mother he was ready, and Elizabeth talked with Nikolas while Cameron and Spencer bickered about the Nurses' Ball.
Spencer told Cameron not to choke on stage with Emma Scorpio-Drake (Brooklyn Rae Silzer), and Cameron told Spencer that he was going to have a good time while Spencer was home in his Batman pajamas and eating pizza. Later, after Elizabeth and Cameron left, Nikolas ordered pizza, much to Spencer's chagrin.
At the Metro Court, in the dressing room area, Lucy Coe (Lynn Herring) was busy getting ready when Felicia Scorpio (Kristina Wagner) entered. The two women discussed how Lucy had ended things with Scott Baldwin (Kin Shriner), and Lucy lamented about how she still missed Scott a bit. But Lucy said that she knew she did the right thing to save her marriage – because Kevin Collins (Jon Lindstrom) was her life. Lucy was glad that Kevin never found out.
Just at that moment, Kevin walked in and wondered exactly what it was that Lucy didn't want him to find out. Felicia covered, saying that Lucy had a special number planned for him. Kevin took off, and Lucy blasted Felicia, saying that she didn't have a surprise number for Kevin.
Meanwhile, over at Maxie Jones' (Kirsten Storms) place, Nathan West (Ryan Paevey) asked Maxie about whether she was having second thoughts about going to the Nurses' Ball tonight. Maxie said she was thinking about all the money spent on the invitations that could go to good causes, and Nathan asked if that was Maxie talking or her boyfriend. Maxie said that Levi Dunkleman (Zachary Garred) wasn't making her stay home.
Maxie insisted that she was glad that she and Levi would get to spend a romantic evening together, and Nathan left, although he wasn't convinced. Later, Maxie was watching the Nurses' Ball red carpet show when Levi turned off the TV, then proceeded to lecture Maxie about how all the money spent on high fashion could have been donated to charities. Maxie promised to only watch the show for 10 minutes, and she turned the TV back on.
Over at Sonny Corinthos' (Maurice Benard) office, Sonny and Shawn Butler (Sean Blakemore) talked. Shawn said that Ava Jerome (Maura West) had made it safely to Puerto Rico, and he informed Sonny that TJ Ashford's (Tequan Richmond) mom would be sitting at their table. Sonny said he wasn't going to the Nurses' Ball because Olivia Falconeri (Lisa LoCicero) found out that he cheated on her.
Sonny went onto say that Olivia had walked out on him and that she didn't want to see him. Shawn urged Sonny to go to the ball and fight for Olivia, since he wasn't one to just give up on things. Shawn thought there was still a chance for Sonny and Olivia.
Back at the Metro Court, the emcee began the red carpet show. Olivia happened to be walking by and was asked if she'd be attending with Sonny this year. Olivia realized she was on TV, then made an excuse about needing to get dressed and took off. More guests arrived, with Samantha Morgan (Kelly Monaco) walking in with Silas Clay (Michael Easton). Sam promptly fell and she was totally embarrassed.
General Hospital Spoilers: Kirsten Storms Has Something To Celebrate – Says She's Blessed! #gh #generalhospitalhttps://t.co/PqgQxNctk0

— SOS/CTS/HH (@SoapOperaSpy) May 25, 2020
From Brad and Britt's vantage point at Brad's apartment, they laughed to see Sam fall, and they even rewound the fall and played it back. Brad decided to make a .gif of the fall. And from her vantage point in her apartment, Maxie felt for Sam.
Having recovered from the fall, Sam was asked who designed her gown, and she and Silas posed for pictures. Alexis Davis (Nancy Lee Grahn) and Julian Jerome (William deVry) entered, along with TJ and Molly Lansing-Davis (Halley Pullos). Jordan Ashford (Vanessa Antione) and Shawn were there, being civil with each other for TJ's sake.
More couples arrived on the red carpet, including Tracy Quartermaine (Jane Elliot) and Luke Spencer (Anthony Geary). Michael Corinthos (Chad Duell) and Kiki Jerome (Kristen Alderson) entered, along with Ned Ashton (Wally Kurth). Michael was upset with Luke, but Kiki and Ned calmed him down, saying they had a plan.
Olivia pulled Ned along to walk the red carpet with her, and the emcee wondered why Olivia wasn't with Sonny. Suddenly, Sonny emerged on the red carpet and he and Olivia shared a look. Olivia and Sonny started to bicker, and Dante Falconeri (Dominick Zamprogna) and Lulu Falconeri (Emme Rylan) appeared and got Olivia and Sonny off camera for their argument.
The emcee called out after Dante about how his son was doing, and from Brad's apartment, Britt got melancholy and temporarily shut off the TV. Back at the Metro Court, Lucas and Felix DuBois (Marc Samuel) decided to brave the red carpet together, which horrified Brad who was watching back at his apartment.
Elizabeth and Ric walked the red carpet next, which Britt watched with interest from Brad's apartment. Cameron and Emma were next, with Cameron speaking into the camera at Spencer who couldn't be there tonight. "Have a slice of pizza for me," Cameron said. Anna Devane (Finola Hughes) and Duke Lavery (Ian Buchanan) were next, with Duke wearing a kilt. Maxie commented on the kilt from her apartment.
Epiphany Johnson (Sonya Eddy) and Nathan walked in next, followed by Mac Scorpio (John J. York) and Felicia. Mac was carrying Mr. Marbles. Lucy and Kevin walked in next, followed by Scott and Bobbie Spencer (Jacklyn Zeman). Kevin commented on Bobbie being Scott's date, and he was glad that Scott had moved on from Laura Webber (Genie Francis). Bobbie and Lucy seemed tense with each other.
Over in another area of the Metro Court, Mac and Felicia asked Nathan where Maxie was, and he replied that Maxie wasn't coming. Back at Maxie's apartment. She and Levi dined on some natural food that Levi made. Levi noticed that Maxie was disappointed in not being at the Nurses' Ball, and he suggested that they go. And over at Wyndemere, Spencer told Nikolas the they should go to the ball.
Back at the Nurses' Ball, Emma asked Cameron if he had sent a picture of the two of them to Spencer. Cameron didn't exactly answer, and Emma said that she had dumped Spencer because he was mean, and that Cameron was a nice guy. Cameron nervously laughed and said, "That's me."
Olivia, Dante, Sonny, and Lulu walked toward the ballroom, and Dante asked Olivia want happened. Olivia looked at Sonny and said, "He's a two-timing low life and I'm definitely not sitting with him!" Olivia headed into the ballroom, and Dante faced Sonny, confronting him about cheating on Olivia. Sonny didn't deny it, and he said that it meant nothing. Dante was disgusted and he said they'd discuss it later.
Finally, the Nurses' Ball started, with Lucy welcoming all the guests and saying a few words about HIV and AIDS research. She then introduced the GH nurses, who were going to perform the opening act. The lights dimmed, and the music started, and the nurses started their opening number. But suddenly the lights went haywire and the music stopped.
The stage behind all the nurses opened up, with nobody really knowing what was going on. Lucy looked upset, and suddenly Liesl Obrecht (Kathleen Gati) was there, singing "Willkommen" from Cabaret, along with some backup performers. The number went on, and Felix quizzed one of the performers, who said that Liesl threatened to fire them if they didn't help her.
During the number, Liesl walked the crowd singing, and Lucy confronted her, asking her what she thought she was doing. "I'm the chief of staff, I should be in the ball, no?" Liesl said. The number finally concluded, but no one applauded, and it was eerily silent. From his apartment, Brad said, "That is one nutty hospital."
That was a great encore episode of GH, and there's more in store tomorrow, so be sure to stay tuned to the ABC soap. Stick with SOS and we'll keep you up to speed on the latest GH developments and news. We're your place for soap spoilers!