Days of Our Lives Spoilers: Will and Sonny Recommit – Evan Meets Up With 'Someone Unexpected'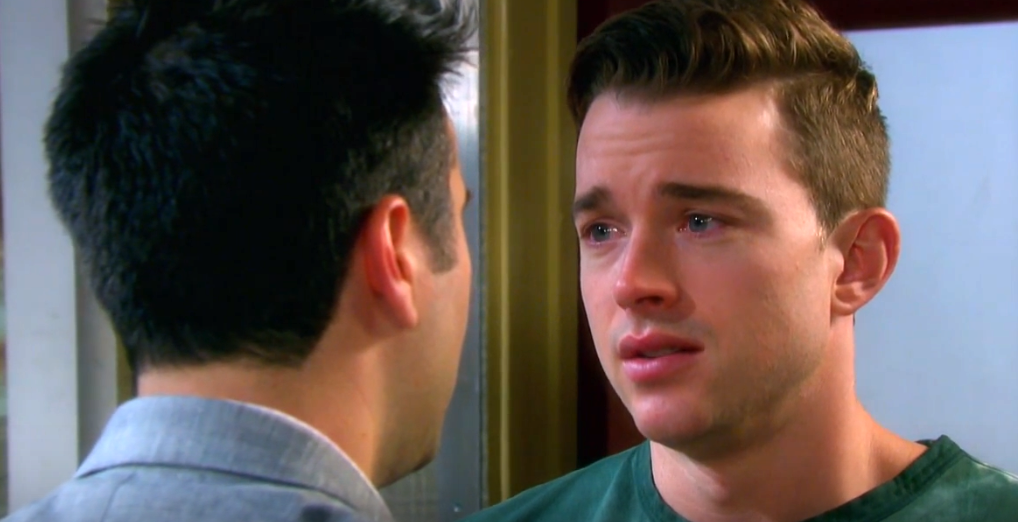 Days of Our Lives – Will Horton (Chandler Massey) Sonny Kiriakis (Freddie Smith) Days of Our Lives spoilers for next week reveal Will Horton (Chandler Massey) and Sonny Kiriakis (Freddie Smith) will recommit to their marriage. Meanwhile, Rafe Hernandez (Galen Gering) is disheartened when Evan Frears/Christian Maddox (Brock Kelly) scores a legal victory. Then, the fake nanny meets up with "someone unexpected." Keep reading to find out more about what is coming up.
Days of Our Live Spoilers – 'Wilson' Recommits
DOOL spoilers reveal Will and Sonny are finally back together as they should be. After being released from prison, Sonny discovered the terrible truth about Evan/Christian. He was shocked at finding out the nanny was really baby David's biological father. However, he was really thrown for a loop when Will and Ciara Brady (Victoria Konefal) told him that Evan/Christian was also Jordan Ridgeway's (formerly Chrishelle Strause) murderer.
Next week, expect "Wilson" to recommit to their marriage.
DOOL Spoilers – Rafe Hernandez's Shock
One would expect the pile of evidence to be stacked against Evan/Christian. However, Rafe will find himself discouraged and stunned when the fake nanny ends up scoring a legal victory. How much proof does the court need to put him in prison where he belongs?
Days of Our Lives Spoilers – Meeting Up With Someone Unexpected
Days of Our Lives spoilers reveal Evan/Christian will end up meeting with someone unexpected. There are no clues on who that could be, but it must be connected to Jordan and/or baby David. There are some fans wondering if Jordan is actually alive or perhaps was brought back from the dead by Dr. Rolf (William Utay). If this is the case, then why would she meet with the man who killed her?
Days of Our Lives Spoilers And Recap Thursday, March 5 – Roman Throws Kate Out; Jennifer Attacks Ginahttps://t.co/Irm3UVURb5

— SOS/CTS/HH (@SoapOperaSpy) March 6, 2020
Days of Our Lives Spoilers – Visitation or Custody Issues?
It is teased that the legal victory might be about Evan/Christian being able to have visitation or custody of baby David. After all, he is the child's biological father. If this happens, how will Rafe handle it? He could lose the little boy he has been raising ever since he found out about him.
Is there a possibility of Rafe losing the child for good? How will this work out if the killer gets convicted and goes to prison? How complicated will this storyline get? Fans will have to keep watching the NBC soap opera to find out what happens next with the characters.
Be sure to catch up on everything happening with DOOL right now. Come back here often for Days of Our Lives spoilers, news, and rumors!