Days of Our Lives Spoilers: Justin Turns To John – Desperate To Rescue Kayla From Stefano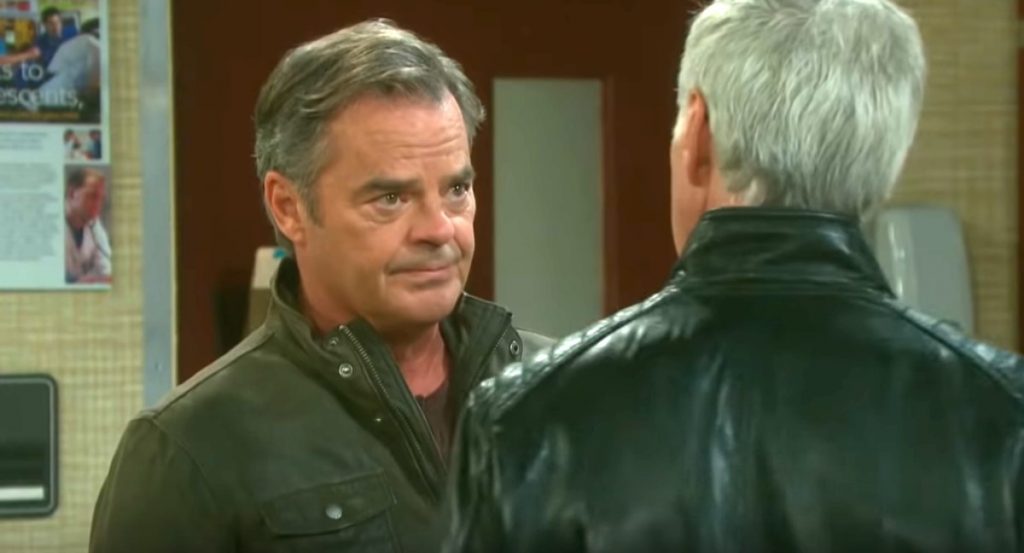 Days of Our Lives Justin Kiriakis (Wally Kurth) will turn to John Black (Drake Hogestyn) for help with his dilemma in an upcoming episode of Days of Our Lives!
Days of Our Lives Spoilers – Justin Kiriakis Encountered John Black While At Salem University Hospital Looking For Dr. Marlena Evans
Days of Our Lives viewers will recall from Friday's episode that after Stefano DiMera (Stephen Nichols) came to Justin Kiriakis' (Wally Kurth) home, he had an extra demand – that along with the ten million dollars, which Justin had gotten for him, he wanted Dr. Marlena Evans (Deidre Hall) delivered to him as well!
While at Salem University Hospital looking for her, he encountered John Black (Drake Hogestyn). John told Justin that Marlena had gone to Statesville Prison because of Ben Weston's (Robert Scott Wilson) impending execution to support him.
DOOL Spoilers – Justin Kiriakis Tells John Black His Problem And Why He Was Looking For Marlena Evans
Justin explains that Stefano is holding his fiancée Kayla Brady (Mary Beth Evans) hostage in exchange for ten million dollars, which he has, and Marlena! If he delivers the ten million dollars and Marlena then he will release Kayla! John will strongly advise him not to even give him the money, and Justin will tell him that Stefano wouldn't take it without Marlena.
Justin will also tell him of the progress he and Police Commissioner Rafe Hernandez (Galen Gering) had made in determining it was Stefano, who she naturally thought was Steve, and that he had kidnapped her after she treated him for a gunshot wound. The trail had gone cold at the hospital. However, Stefano had called Kayla and he had talked to her so he knows she is okay – so far! John will tell Justin that they will need to come up with a plan – and John will help him.
Days of Our Lives Spoilers: Roman and Hattie Spring Into Action – Unlikely Duo Save Marlena? https://t.co/uA9voz40N1 pic.twitter.com/a7oLQB7ywY

— SOS/CTS/HH (@SoapOperaSpy) March 2, 2020
Days of Our Lives Spoilers – John Black And Justin Kiriakis Formulate A Plan
John and Justin formulate a plan – they have to be careful, and John decides to recruit Hattie Adams (Deidre Hall) to take Marlena's place again like Marlena did when she came to Prague, probably will not be a good idea since Stefano could be suspicious – although Hattie is good at impersonating Marlena –real good!
Longtime Days of Our Lives viewers will recall that she was trained by Stefano himself, and Dr. Wilhelm Rolf (William Utay). But Stefano finally figured out who she was when she refused to give in to him when he wanted to sleep with her because of loyalties to Roman Brady (Josh Taylor)!
Marlena and Roman had been involved many years ago and Roman is Eric Brady (Greg Vaughan) and Sami Brady DiMera's (Alison Sweeney) father, but Marlena moved on with John many years ago when he thought he was Roman Brady, and then when the real Roman resurfaced, she stayed with John, and Stefano knows that. So whatever plan they come up with, it probably won't involve Hattie as Marlena's double this time!
Stay tuned to Days of Our Lives, and keep checking Days of Our Lives spoilers frequently for all the latest news, updates and developments!