Days Of Our Lives Spoilers: Jack & Jen On Rocks After He Urges Steve To Fight For Kayla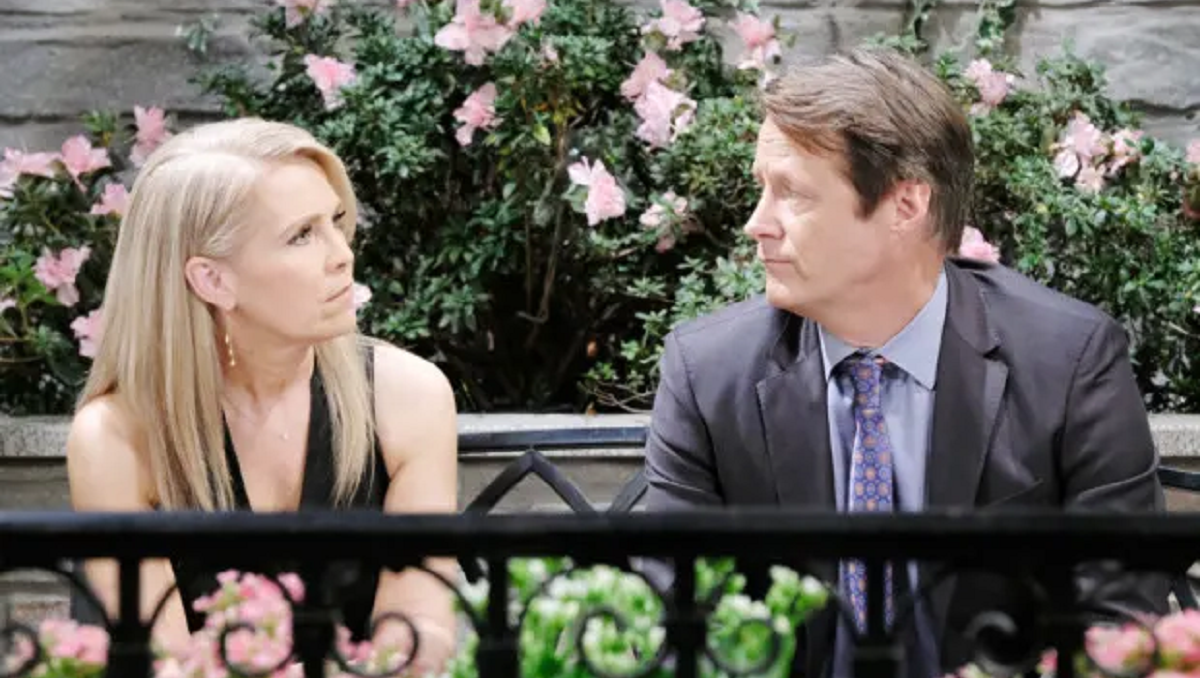 Days of our Lives spoilers tease that one rock-solid Salem couple may not be able to weather the storm of Steve Johnson's (Stephen Nichols) unexpected return to Salem.
Everyone in town is worried that Patch's reemergence will sink Justin Kiriakis (Wally Kurth) and Kayla's Brady's (Mary Beth Evans) relationship, but there is another couple that could be in jeopardy due to Patch's presence.
Jack Devereaux (Matthew Ashford) and Jennifer Devereaux (Melissa Reeves) haven't been seen much since she awoke from her coma. Still, they seem blissful, but that could all be about to change!
Days of our Lives spoilers – Are Jack and Jennifer in jeopardy after he urges Steve to fight for Kayla?
Patch is back, with a freshly gouged eye no less, which is cause for many in Salem to rejoice. But his entrance has pitted friends against each other as they take sides. On one side are the Kayla and Steve fans, on the other are those who want Justin and Kayla to remain in a committed relationship.
After Steve disappeared, Kayla took up with Justin who is under the impression that his wife Adrienne Kiriakis (Judi Evans) is dead. Both were needy and alone after losing their longtime mates.
Somehow their romance took off and their friends seemed happy for them.
Days of our Lives spoilers – Steve is back and doesn't want to hurt Kayla any more than he has
Kayla ended up delivering Steve back to his senses and full self, and after the amnesia wore off he was shocked to learn that he and Sweetness are no longer an item.
Days Of Our Lives Spoilers: Steve's Romantic Sacrifice – Tells Kayla To Stay With Justin #DOOL #Days #DaysOfOurLiveshttps://t.co/V1YTDk10vJ

— SOS/CTS/HH (@SoapOperaSpy) April 17, 2020
In his gentlemanly way he wants Kayla to be happy and is willing to step aside while she and Justin go on as if nothing has changed.
But not everyone is as neutral as Steve is.
Days of our Lives spoilers – Jack wants Steve to fight for Kayla and oust Justin from her life
Jack is not happy that Steve is willing to back off. He has urged him to fight for the woman he loves, but not everyone agrees with this strategy.
Is it possible that Jack's insistence rubs Jennifer the wrong way? She loves Kayla and doesn't want to see her suffer any more than she already has. If Jack persists in causing waves, Jennifer could have a major issue with her husband.
Is this the beginning of another end for Jack and Jennifer?