Days Of Our Lives Spoilers: Charlie Sees Xander As 'Big Brother', Mike C. Manning On 'Chander'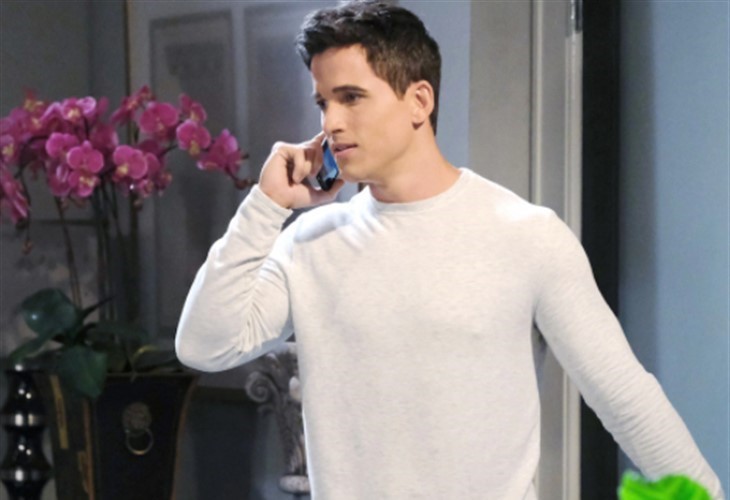 Days of Our Lives spoilers reveal that Charlie Dale (Mike C. Manning) and Xander Cook Kiriakis (Paul Telfer) are forming an unlikely bond. The soap newcomer teased that we are going to see more interaction between these two that goes beyond the Titan office. Manning said that Charlie views Xander like a big brother. Keep reading to find out more about what the actor had to say.
Days Of Our Lives Spoilers – Charlie Dale Adopts 'Big Brother'
DOOL spoilers reveal that the only person we've seen Charlie interact with is Claire Brady (Isabel Durant). This week, we saw Charlie panic when Xander walked in as he was on the phone. The intern thought he was in trouble, but Xander was curious. He gave the newcomer some advice on women — which was pretty amusing — but they will continue to form a bond. In fact, Manning told Soaps.com that Charlie views the co-CEO as a "big brother."
DOOL Spoilers – Unexpected Connection
While it is odd that Xander and Charlie are forming a bond, the most unexpected friendships can be the most interesting! They could have some things in common. Xander is semi-reformed, but nobody can forget about his evil past. So, he really doesn't have any friends.
As for Charlie, he is new in town and doesn't know anyone except Claire. He probably could use someone to talk to and needs to learn how things are run in Salem. (It's not the typical American town!) Plus, Charlie must have a backstory and he hasn't opened up to Claire about his past or even where he is from. So, he could have something in his history that he would rather people not know. So, maybe Charlie and Xander are a bit more alike than anyone realizes.
Days Of Our Lives Spoilers – Xander Cook Kiriakis Inspirational
Days of Our Lives spoilers reveal that Manning views Xander as inspirational. The actor said Xander gives other characters hope. Everyone has a story, something that turned them into a villain, and change is always possible. You just have to find a way to reach that person.
"Xander gives other characters hope. I mean, the guy has killed people, he's kidnapped people… he's done a lot of bad things! Yet people really like him. He's like the lovable villain."
DOOL Spoilers – Prepared For Backlash
Although Manning couldn't give too much information about what is coming up for his character, we do know a few things. He will continue to interact with both Xander and Claire. He will also get interrogated by Shawn Brady (Brandon Beemer) and John Black (Drake Hogestyn).
Days Of Our Lives Spoilers: Philip Not Villain In Money Laundering Story? Head Writer Drops Hint #days #dool #daysofourlives https://t.co/dKUPxWAVD2

— SOS/CTS/HH (@SoapOperaSpy) November 13, 2020
The actor knows the theories about his character, especially regarding Allie Horton (Lindsay Arnold). Manning said he's prepared for the intense backlash as Charlie's storyline progresses. Does that mean he's a bad guy? Not necessarily. We have a feeling that the story is going to be complicated and Charlie will probably be a "gray" character — not really bad, but not exactly a saint, either.
Be sure to catch up on everything happening with DOOL right now. Come back here often for Days of Our Lives spoilers, news, and updates.