Days Of Our Lives Spoilers: Chad Worried About Stefan's Return – Enlists Gwen To Keep Jake From Being Stefan?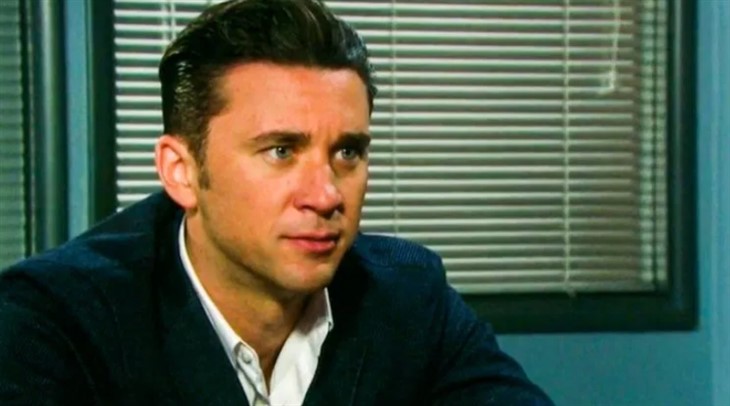 NBC Days of Our Lives spoilers and updates tease that Chad DiMera is going to get a pretty big shock when he hears the news about Jake Lambert's (Brandon Barash) DNA test results. Right now, just a handful of people know that the results showed a 100% match between Stefan DiMera's (Brandon Barash) comb and Jake's toothbrush, but it probably won't be long before Gabi DiMera (Camila Banus) is blabbing the news to Chad and boasting about how she and Stefan will eventually take over DiMera Enterprises.
Chad probably won't be too worried at first, and he'll probably bluster that Jake doesn't even remember being Stefan, so there's no way that he can come anywhere near DiMera Enterprises. However, Chad's tune might change when he realizes that Vivian Alamain (Louise Sorel) is back on the Salem scene. After all, together Stefan and Vivian did take over DiMera Enterprises once before, and Chad may see them as a big threat.
Days Of Our Lives Spoilers – Chad DiMera May Give Heads Up About Jake Lambert
Chad might try to give Mr. Shin (Michael Hagiwara) and the board the heads-up about Jake, and he'll probably want to make sure that he's secure in his position as CEO of DiMera Enterprises. Chad might also want to make some business moves behind the scenes that will keep Jake out of the company, but there will only be so much that he can do.
After all, when and if Jake remembers being Stefan, then he's going to certainly want to get the CEO position back and away from Chad. Of course, DOOL viewers know that Chad and Stefan didn't get along, especially after what happened between Stefan and Abigail DiMera (then played by Marci Miller). Chad just can't forgive Stefan for sleeping with Abigail when Abigail was acting as her "alter" personality.
DOOL Spoilers -Chad Dimera Will Run Into Gwen Davies
At any rate, DOOL spoilers indicate that Chad will soon encounter Gwen (Emily O'Brien), and as the two get to talking, Chad may realize that he's got a goldmine in Gwen. After all, he and Gwen both will have something in common – they'll each want to keep Stefan as Jake. Perhaps Chad will suggest that he and Gwen join forces to make sure that Jake never regains his memories.
That could turn into an interesting situation since Gabi and Vivian will probably be on their mission to find Wilhelm Rolf's (William Utay) serum so that Jake becomes Stefan. Chad and Gwen could team up to counter all of Gabi and Vivian's efforts, and with Gwen staying close to Jake, she could make sure that Jake never takes that serum!
We'll see what happens here, but we suspect that there's a Chad/Gwen teaming on the way. Both Chad and Gwen can be pretty devious, and together they could probably thwart any efforts on Gabi and Vivian's part to bring Stefan back.
Days Of Our Lives Spoilers: Gwen Loses Jake, Sets Sights On New Man – Abigail Betrayed?https://t.co/1nOWusRE1o

— SOS/CTS/HH (@SoapOperaSpy) July 9, 2020
Do you think we'll see Chad and Gwen work to ensure that Stefan stays gone? Stick with Days of Our Lives and be sure to keep CDL at the ready so you don't miss any of the latest DOOL daily recaps, hot spoilers, and up-to-the-moment news.