Days of Our Lives Spoilers: Billy Flynn Returns Summer 2020 – Chad DiMera's Story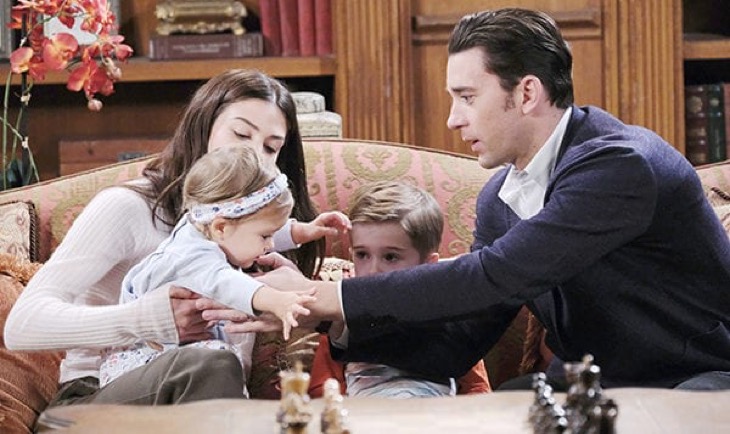 NBC Days of Our Lives spoilers and updates reveal that Chad DiMera (Billy Flynn) and Abigail DiMera (Kate Mansi) go to Florida. However, Chad will return in summer 2020. While his focus will be Gabi Hernandez DiMera's (Camila Banus) trial, he will get pulled into some other storylines. Keep reading to find out what head writer Ron Carlivati teased about the character.
'Chabby' Goes To Florida
DOOL spoilers reveal that Chad and Abigail are leaving to travel to Florida. The couple is headed there to seek treatment from a doctor who might be able to help Abigail's hallucinations. While Abigail will remain in Florida, Chad will return this summer.
DOOL Spoilers: Billy Flynn Will Return
In the latest issue of Soap Opera Digest, head writer Ron Carlivati talked about what we can expect from several Salemites. One of those was Chad. He will come back to town to attend Gabi's trial. He wants to be sure that Gabi is convicted and locked away in prison.
Gabi Hernandez DiMera's Trial
Days of Our Lives spoilers indicate that Gabi might be going to trial to face charges relating to Abigail's drugging. Even though she is the most likely suspect, she might not actually be guilty. First of all, she already drugged Abigail once. Second of all, she has been too consumed with Jake Lambert (Brandon Barash) to worry about "Chabby."
Days of Our Lives Spoilers: Chad DiMera's Future
Chad won't just be dealing with the reason why Gabi is on trial, though. He will learn all about her other deeds since he's been away. This likely includes her obsession with Jake being Stefan DiMera and sticking him with Dr. Wilhelm Rolf's (William Utay) syringe.
Interestingly enough, it wasn't the formula to make Jake remember. Tests show that it was filled with the same drug that was used on Abigail. So, who was really responsible for drugging Abigail? Dr. Rolf? How would he do that from prison and know what exactly was in the needle?
Days of Our Lives Spoilers: Who Dies In July? 4 Weddings And A Funeral https://t.co/0hJd3ZJcIs pic.twitter.com/oU60IxNtF0

— SOS/CTS/HH (@SoapOperaSpy) May 27, 2020
Will Chad get what he wants when the judge delivers Gabi the verdict? Or will she be found not guilty? If she didn't drug Abigail, then who did and how is Dr. Rolf involved? What exactly is the mad scientist up to and who is he working for now that Stefano DiMera's (Stephen Nichols) essence has been destroyed? We will have to keep watching the NBC soap opera to find out.
Be sure to catch up on everything happening with DOOL right now. Come back here often for Days of Our Lives spoilers, news, and updates.