Young and the Restless Spoilers Wednesday, March 13: Nikki, Victoria and Nikki Found Guilty, Face Lengthy Sentences – Kerry's Big Win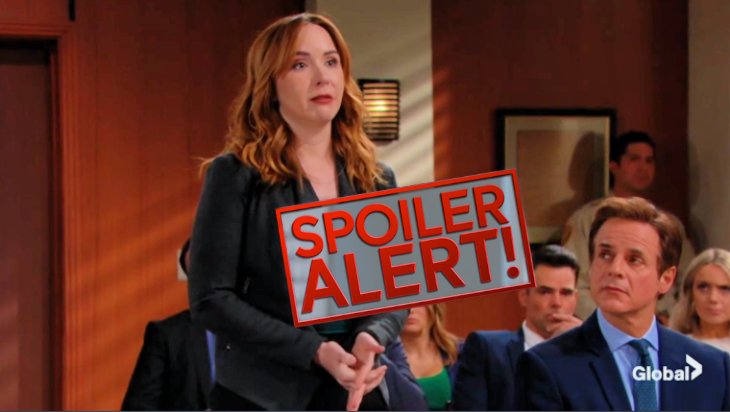 "Young and the Restless" spoilers for Wednesday, March 13, tease that Summer Newman (Hunter King) will stand her ground. At Nick Newman's (Joshua Morrow) place, he grills Summer about her wedding and balks at it happening tomorrow. Nick doesn't think Kyle Abbott (Michael Mealor) is ready to settle down since he was just professing his love for Lola Rosales (Sasha Calle).
Summer remains determined and shuts down Nick's continued complaints. They eventually join everyone else at the courthouse. Jack Abbott (Peter Bergman) supports a worried Billy Abbott (Jason Thompson), who frets about what to tell the kids if Victoria Newman (Amelia Heinle) gets jail time. Billy also shows his displeasure over Phyllis Summers (Gina Tognoni) being in the courtroom.
When Tessa Porter (Cait Fairbanks) shows up, she hugs Mariah Copeland (Camryn Grimes) and thanks her for posting bail. Soon after, it's time for the jury's verdicts to be read. Victoria, Nikki Newman (Melody Thomas Scott) and Sharon Newman (Sharon Case) are all found guilty. The judge reveals that sentencing will be in a couple hours, so they eventually file out to a holding room.
Orange is the new Tessa #yr throw her under the jail pic.twitter.com/SgOq0ddrhq

— Team Summer and Kyle! No section 8 (@bigbrotherfan35) March 11, 2019
Meanwhile, Abby Newman (Melissa Ordway) gripes to Summer about her rushed wedding plans. Elsewhere, Nick and Billy discuss trying to find J.T. Hellstrom (Thad Luckinbill). He could be alive and well in Genoa City, so Billy agrees to help Nick with his plan. Next, Mariah defends Tessa to Nick before court resumes for sentencing.
Today on #YR, tensions rise between Billy and Phyllis, Kerry sends a cryptic message, and Summer plots her next move. WATCH FULL EPISODE: https://t.co/pCJQdbyOjd pic.twitter.com/DYa3a97P9u

— Young and Restless (@YandR_CBS) March 11, 2019
Christine Williams (Lauralee Bell) pushes for strict punishments while the women's character witnesses push for leniency. Nikki, Victoria and Sharon's loved ones do their best, but the judge has to go by the facts here. She feels the ladies behaved in a callous manner, so they have to suffer for J.T.'s death. Sharon receives three years, Victoria gets 10 and Nikki faces a whopping 30-year sentence.
At the coffeehouse, Abby confronts Summer again and asks if she's Lola's anonymous donor. Summer denies having any interest in Lola's health crisis. No matter how much Abby complains, Summer intends to stick to her marriage goal. She's marrying Kyle tomorrow and that's that.
The verdict is in this week on #YR! 👏 AND will Kyle follow his heart no matter the cost? Make sure to tune in! pic.twitter.com/4LtY4hE9UD

— Young and Restless (@YandR_CBS) March 10, 2019
At Jabot, Phyllis feels guilty about everything that's happening to the rest of the cover-up crew. Kerry Johnson (Alice Hunter) notes it wouldn't have been any better if Phyllis had gone down, too. They shift gears and begin discussing work. Phyllis has a strategy to take down Ashley Abbott's (Eileen Davidson) company, My Beauty. She thinks it's important since My Beauty might be their biggest competitor.
Later, Kerry sneaks off for a moment alone and calls her mysterious boss. She insists they may have just hit the mother lode. "The Young and the Restless" spoilers say Kerry's plot will blow up in a big way down the road, so we'll give you updates as other Y&R news and rumors emerge. Stay tuned to see what's ahead in Genoa City.
So Y&R fans, what do you think about these "Young and the Restless" spoilers? Voice your opinion in the comments below and don't forget to check Soap Opera Spy often for the latest "Young and the Restless" spoilers, rumors, updates, and news.
As always, more detailed spoilers and a full collection of pictures for the week in question will appear here on Soap Opera Spy, where there will be more clues and hints over exactly what's going on.