Young and the Restless Spoilers Thursday, January 31: Katie Disappears While Nikki Naps – Summer Wants J.T. Answers – Nick Seeks a Promise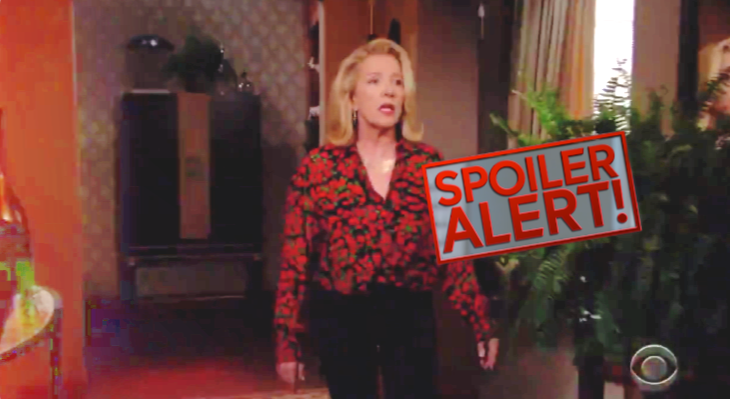 "Young and the Restless" spoilers for Thursday, January 31, tease that Summer Newman (Hunter King) will get nosy. At home, Phyllis Summers (Gina Tognoni) and Nick Newman (Joshua Morrow) face questions about their relationship. Summer thinks they're both on the rebound and are keeping things casual because of it.
Soon after, Summer shifts the conversation to the charges against Victor Newman (Eric Braeden) and who J.T. Hellstrom's (Thad Luckinbill) real killer might be. Phyllis is eager for a topic change. After Summer takes off, Phyllis battles guilt over deceiving her daughter.
At the coffeehouse, Ana Hamilton (Loren Lott) gripes about Fenmore "Fen" Baldwin (Zach Tinker) paying too much attention to his phone. Fen thinks he's a star now, but Ana warns one song doesn't guarantee that. Kyle Abbott (Michael Mealor) appears in a real bind. He's looking for two replacement models for a photo shoot, so he's hoping Lily Ashby's (Christel Khalil) agency can help.
Next week on #YR, Kyle and Fen show some skin, Arturo makes things clear to Mia, Nick demands answers, and Katie goes missing. pic.twitter.com/2k1tbSOftk

— Young and Restless (@YandR_CBS) January 25, 2019
Ana informs Kyle that the agency isn't running while Lily's behind bars, so he has to keep pursuing other angles. Kyle and Fen end up bickering over Summer, but Ana puts a stop to it. She really wants Fen to buckle down and focus on his career.
Afterward, Fen is taken aback by a phone call he receives. He shows up at Jabot and surprises Kyle by revealing that Lauren Baldwin (Tracey E. Bregman) called him as a replacement model. Kyle decides he'll step up as the other one, so they get the photo shoot started. Naturally, Fen and Kyle butt heads along the way.
Summer encounters Kyle later and is questioned about her date with Fen. She suggests that Kyle seems jealous, but he insists he isn't. Kyle warns that Fen could be using Summer, so he doesn't want her to get hurt.
LOVE Y&R? SUBSCRIBE TO OUR THE YOUNG & THE RESTLESS NEWSLETTER, HERE!
At Victoria Newman's (Amelia Heinle) house, Billy Abbott (Jason Thompson) wants to give their reunion another try. Victoria feels like Billy already made his position clear. He acted like she wasn't capable of loving anybody, but Billy does his best to patch things up. He wants Victoria to see that they could rebuild their romance on a foundation of love and trust.
Victoria is still hesitant, especially when Phyllis becomes part of the conversation. Phyllis nudged Billy to seek this second chance, so Victoria's just wary about the whole thing. Billy keeps pushing, but Victoria isn't ready and ends the discussion.
Who do you think this could be? #YR pic.twitter.com/UN6EfCh8kb

— Young and Restless (@YandR_CBS) January 30, 2019
At the ranch, Katie Abbott (Sienna Mercuri) wants Nikki Newman (Melody Thomas Scott) to meet her special friend. Nikki's too distracted by thoughts of all the J.T. drama. When Nick pops in, he talks his mom off the ledge. Nikki is all bent out of shape about Victor potentially going on trial, but Nick thinks the legal system will take care of it. He has faith in Michael Baldwin (Christian LeBlanc).
Nick wants Nikki to promise that no matter what happens, she won't do anything crazy like confess to the police. Nikki settles down and assures Nick she won't spill the truth. Once Nick takes off, Nikki takes a short nap while someone watches. Some glass eventually shatters and jolts Nikki awake. She calls out for Katie, but the tot's nowhere to be found.
"The Young and the Restless" spoilers say things about to heat up on the CBS soap. We'll give you updates as other Y&R news and rumors emerge. Stay tuned to see what's next in Genoa City.
So Y&R fans, what do you think about these "Young and the Restless" spoilers? Voice your opinion in the comments below and don't forget to check Soap Opera Spy often for the latest "Young and the Restless" spoilers, rumors, updates, and news.
As always, more detailed spoilers and a full collection of pictures for the week in question will appear here on Soap Opera Spy, where there will be more clues and hints over exactly what's going on.
Soap Opera Spy is a leading source for everything linked to 'The Young and the Restless'.
Read more news, spoilers, and gossip on our Young & Restless homepage
Want up-to-the-minute soaps news, spoilers, and gossip on your social feeds? Just hit 'Like' on our Soap Opera Spy Facebook page and 'Follow' on our @soapoperaspy