The Young and the Restless Spoilers Wednesday, October 9: Victoria Becomes CEO Again – Cane Locates Adam In Vegas – Lola Advises Kyle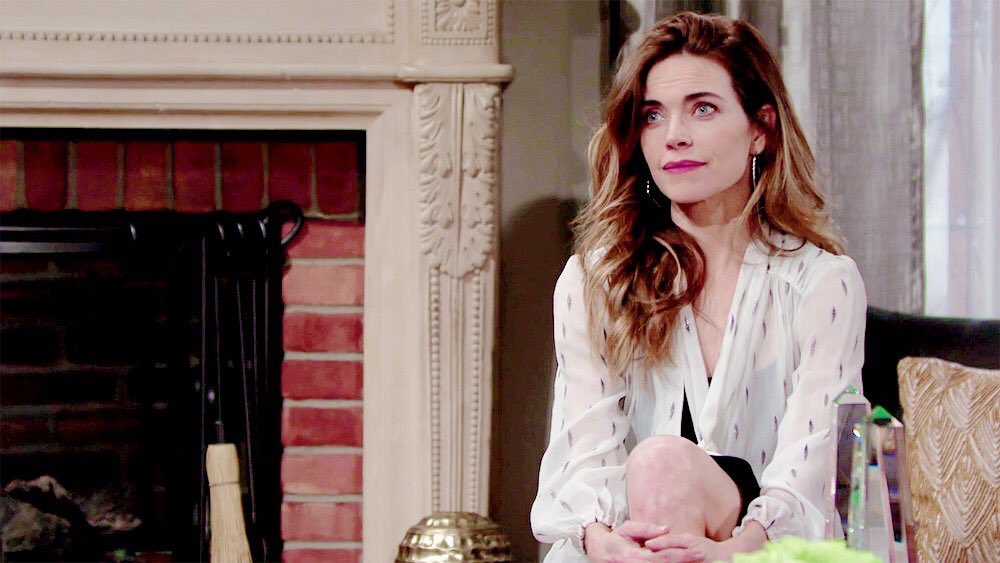 The Young and the Restless spoilers for Wednesday, October 9, tease that Lola Abbott (Sasha Calle) and Kyle Abbott (Michael Mealor) will do some online house-hunting before Kyle fills Lola in on the goings-on with Billy Abbott (Jason Thompson) at Jabot. Lola will suggest that Billy has shown his true colors now, and that Kyle should use it to his advantage. Kyle will think that if he gives Billy enough rope, he might hang himself, so to speak, and Kyle will come out looking like the good guy.
Meanwhile, at Society, Victoria will be sleep-deprived after being up most of the night worrying about the situation with her father. She'll talk with Billy, who will wonder if she's going to come work at Jabot, but Victoria won't be into it. She'll say that she's going to stand her ground with Victor Newman (Eric Braeden).
Young & The Restless Spoilers – Theo Vanderway Reveals His Firing From Power Communications
Next on Y&R, Theo Vanderway (Tyler Johnson) will meet with Mariah Copeland (Camryn Grimes). He'll lie and say that he's decided to leave Power Communications, and she'll call him on it – she'll know that Devon Hamilton (Bryton James) fired him and why. Theo will then note that Devon over-reacted, and Mariah will tell him that she used to be just like him, but it was lonely, and that he needs to get a clue.
Later, Summer Newman (Hunter King) will hear about Theo's firing at Society. Theo will act blasé about it, but Summer will think that he'll have trouble working for anyone if he couldn't work for Devon. They'll end up bickering, and soon Kyle and Lola will show up. Lola will mention to Summer about how Kyle's about to take charge at work, and when Lola runs to the kitchen, Kyle will remark that things might not be as easy as Lola thinks.
Then later, at Jabot, Summer will tell Kyle to leave and go find his dream home with Lola. She'll think it won't be worth it for him to get too caught up int work – she did, and she'll say that she regrets it.
Y&R Spoilers – Victoria Newman States Her Case
Next on Y&R, Victor will notice the letter opener skewering his portrait at Newman Enterprises. Victoria will enter and state that they need to talk. She'll tell Victor that she's not going to just apologize and return to the COO position. She'll then say that she's ready to be the CEO…permanently. She'll say that if he doesn't acknowledge that she belongs in that position, then their relationship is over.
Furthermore, Victoria will say that she'll leave Newman, start her own company, and come after him with all that she's got. Those will be her terms, and ultimately Victor will accept it and tell her that the CEO chair is hers. Victoria will be stunned, and they'll embrace as she thanks him for trusting her with the Newman legacy.
Young and the Restless #YR Spoilers Wednesday October 9: Victoria Gives Dad Ultimatum, Adam and Phyllis Get Unexpected Visitor, and Lola Offers Advice @celebratesoaps https://t.co/mVE1Hp2O3C

— SOS/CTS/HH (@SoapOperaSpy) October 8, 2019
Young & The Restless Spoilers – Phyllis Summers Gets Some Answers
Next on Y&R, Phyllis Summers (Michelle Stafford) will talk with Adam Newman (Mark Grossman) at the poker table. She'll want Adam to return home to Genoa City with her, but he'll refuse, even when she reminds him about what a great team they were. Phyllis will propose a game of five-card draw, and if she wins, he'll have to give her answers. She'll ultimately win, and she'll want to know about Victor's interaction with him.
Adam will describe their big confrontation before he left Genoa City, and Phyllis will remark that it was genius to play on Victor's sympathies, and that he can now go swoop in on Newman Enterprises. But Adam will insist that he's not interested in revenge now. Phyllis won't be persuaded.
Finally, on Wednesday's new episode of Y&R, Cane Ashby (Daniel Goddard) will appear as Phyllis and Adam are talking. Phyllis will remark that this is an interesting development.
Be sure to tune in on Wednesday to catch up on everything happening on Y&R right now. Check Soap Opera Spy often for updates, news, rumors, and spoilers!