The Young And The Restless Spoilers, Wednesday, June 12: Christine Clashes With Victor—Nick On A Warpath – Adam's Partner Kidnaps Chloe
The Young and the Restless (Y&R) spoilers for Wednesday, June 12 tease that Adam Newman (Mark Grossman) will arrive at Sharon Newman's (Sharon Case) house. He wants to apologize for his behavior and explains Chelsea Newman's (Melissa Claire Egan) ability to turn her back on him has him feeling lost. He feels like he has lost everyone – his wife, kids, and purpose in life.
Sharon understands and hugs him. Y&R spoilers tease that Adam leaves as Rey Rosales (Jordi Vilasuso) walks in and he's upset. Rey flips out stating Adam is a predator and he could be dangerous. Sharon says that Rey's jumping to the conclusion as she just told Adam what she thought of his actions toward Nick Newman (Joshua Morrow)
Rey thinks Sharon may be hung up on Adam and afraid to admit it. He storms out of the house without saying goodbye.
Y&R Spoilers– Adam's Partner Has Chloe
At the tackhouse, Adam tells someone on the phone to "keep her there and let him know if she gives any problems." He will add that Chloe Mitchell (Elizabeth Hendrickson) can be a handful.
Nick arrives and asks his brother, "Where is she?"
He is clearly talking about Phyllis Abbott (Michelle Stafford), which Adam has no idea where she is. Nick muses that it seems like quite a coincidence that Phyllis disappears after Adam put her up to hacking into his server and they showed up together at Victoria Newman's (Amelia Heinle) commitment ceremony.
Adam discloses that he got the money to buy his debt from "daddy in a dress," a clear reference to Victoria. Adam reveals that their sister gave him the money and Chelsea's number. At this point, Nick is livid. He says Adam brings the worst out in everyone.
After he leaves, Adam gets a text message that if he doesn't reveal Chloe's whereabouts people will suffer.
Young And Restless Spoilers– Victor's Lawsuit
Christine Williams (Lauralee Bell) arrives to have a chat with Victor Newman (Eric Braeden). Y&R spoilers state that she wants to know why he filed a "hurtful" lawsuit. Against the department.
Victor explains that they had no right to railroad his family and have them sit in jail for all that time. Because of the lawsuit, no one wants to invest in her campaign. Victor has no sympathy for her. He asks her to leave his office.
Later, Nick confronts Victoria about her deal with Adam. Y&R spoilers state that Nick thinks the deal hurt him and gave him a way to buy out Dark Horse. He yells that she did this to have the advantage to take over Newman Enterprises. Victoria claps back that she deserves the CEO chair and she's not letting Adam stand in her way.
Y&r spoilers tease that Victor, Nikki Newman (Melody Thomas Scott), and Nate Hastings (Sean Dominic) enter the office. Nick and Victoria leave. Dr, Hastings lets Victor know that his body is not responding to treatment. Nikki wants to tell the kids about his health crisis.
Y&R Spoilers– Summer Is Preoccupied
Kyle Abbott (Michael Mealor) and Summer Newman (Hunter King) have a meeting with Billy Abbott (Jason Thompson) about Jabot. Y&R spoilers tease that she seems off, which Kyle assumes she was out late drinking.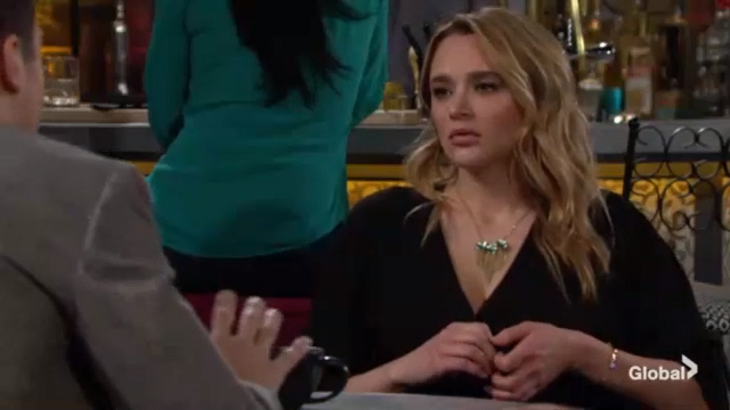 Of course, that isn't the truth. Summer is worried about her mom. No one can reach her and she seemed to vanish without a trace.
Lola Rosales (Sasha Calle) approaches Summer and offers her support about her mother. Y&R spoilers state that Lola shares that her mother raised her alone too as her father left when she was pregnant with her. Summer feels terrible that her mother feels so hurt right now.
Lola arrives home to find it lit with candles all over. And Kyle is looking handsome in a suit. He wanted to ask her to marry him officially on one knee and with a ring. She says yes and they kiss.
Soap Opera Spy is a leading source for everything linked to The Young and the Restless. Check back regularly for Y&R spoilers and news! As always, more detailed Spoilers and Breaking news will appear here on Soap Opera Spy.