The Young And The Restless Spoilers: Thursday, June 13 – Victor's Illness Starts Tearing The Family Apart – Kyle & Lola Go Public With Their Engagement
The Young and the Restless (Y&R) spoilers for Thursday, June 13, tease that Victor Newman (Eric Braeden) will summon his children together at Newman Enterprises for a meeting, during which he'll tell them about his possibly fatal blood disease. Victoria Newman (Amelia Heinle), Abby Newman (Melissa Ordway), Nick Newman (Joshua Morrow), and Adam Newman (Mark Grossman) will all be shocked to hear the news.
Victor will request that his children all get along, but that won't be in the cards. Victoria will offer to run Newman Enterprises, annoying Abby. Then Victor will speak with Adam alone and ask him to carry on his legacy, but Adam will balk because he doesn't want to live out someone else's dream. Victoria will get upset that she wasn't chosen and leave.
Then Nick will talk with Victor and warn him to stop trying to turn Adam into the golden child. Nick will also let Adam know that he knows about Adam's meeting with Kevin Fisher (Greg Rikaart). After the children have left, Nikki Newman (Melody Thomas Scott) and Victor will embrace, then Victor will sadly stare at his own portrait.
Y&R Spoilers– Traci Reads Dina Her Novel
Next on Y&R, Traci Abbott (Beth Maitland) will visit with Dina Mergeron (Marla Adams) at the memory care facility, and Traci will read to Dina from her novel-in-progress. Dina will enjoy the story, all about "Flynn" – the character based on Cane Ashby (Daniel Goddard) – and his relationship drama. Ultimately, Dina will think that "Flynn" should forget about "Iris" – the character based on Lily Winters (Christel Khalil) – and Traci will agree.
Meanwhile, at Crimson Lights, Kyle Abbott (Michael Mealor) will tell Mariah Copeland (Camryn Grimes) that he and Lola Rosales (Sasha Calle) are engaged, and she'll let him know that she has a new job as head of Power Communications. Tessa Porter (Cait Fairbanks) will be her very first client, and even though it's scary, she'll be looking forward to it.
Cane will bump into Traci as well, and they'll have coffee together. He'll tell her about his new work and that he may have to move to Lakewood, which would put him closer to Lily.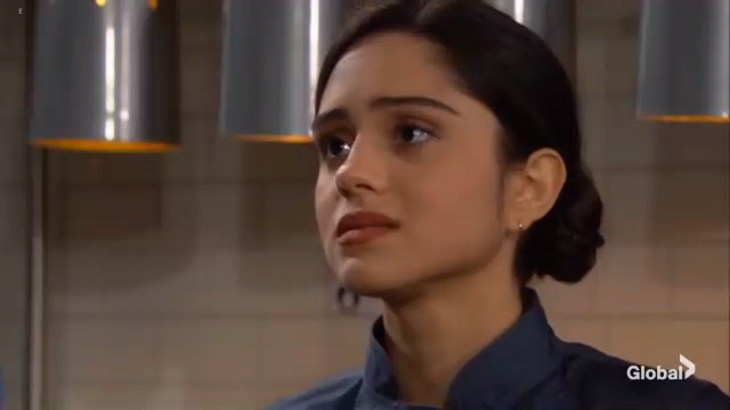 Young And Restless Spoilers– Lola And Kyle Announce Engagement
Next on Y&R, Lola and Rey Rosales (Jordi Vilasuso) will chat at Society. They'll discuss Kyle and Lola's engagement, and Lola will see that something isn't going well with Rey and Sharon Newman (Sharon Case), but Rey will insist that everything is all right. Later, Victoria will meet up with Billy Abbott (Jason Thompson), still upset over Victor's actions earlier and his disease.
In Chancellor Park, Kyle and Mariah will meet up with Tessa and Lola, who will show off her engagement ring and announce that Abby will be her maid of honor. Abby will show up, upset from the meeting with Victor, but they'll make a plan to start wedding planning.
At Nick's place, he'll gaze at a photo of himself with Victor. Finally, on Thursday's new episode of Y&R, Adam will arrive at the tack house. He'll pour himself a drink and think.
Be sure to tune in on Thursday to catch up on everything happening on Y&R right now.
Soap Opera Spy is a leading source for everything linked to The Young and the Restless. Check back regularly for Y&R spoilers and news! As always, more detailed Spoilers and Breaking news will appear here on Soap Opera Spy.