The Bold and the Beautiful Spoilers: Zoe Puts Her Moves On Thomas – New Romance In The Works?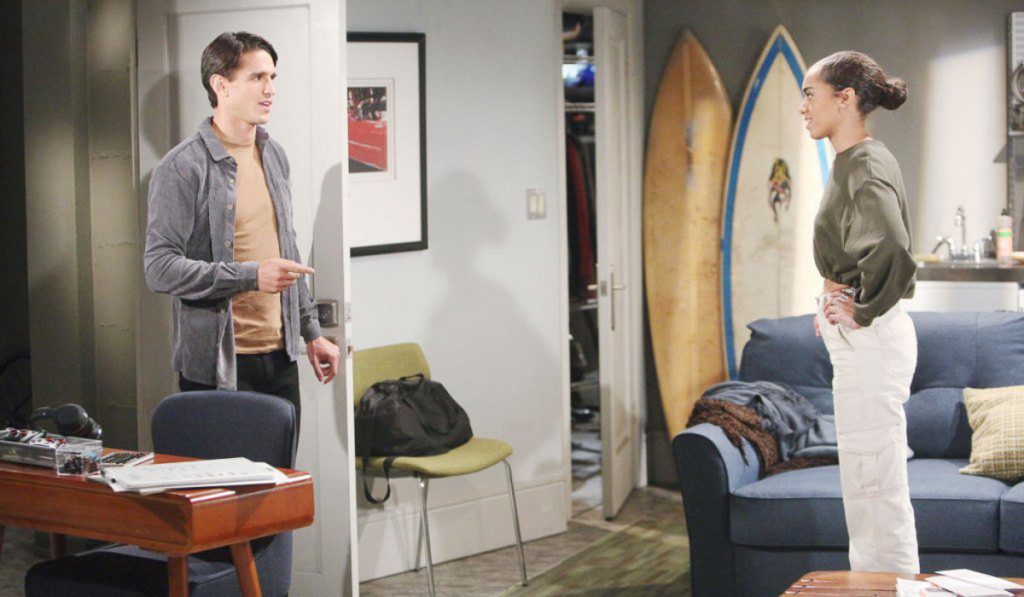 The Bold and the Beautiful spoilers tease that Thomas Forrester (Matthew Atkinson) will get a big surprise. As B&B viewers know, he recently reconnected with Zoe Buckingham (Kiara Barnes) after he noticed her at his friend Vinny Walker's (Joe LoCicero) apartment building. Zoe was subletting an apartment there but had no place to go after her sublet was up, so Thomas invited her to move into Vinny's apartment, which works out well since Vinny has been staying with his girlfriend out of the city.
Bold & The Beautiful Spoilers – Could Zoe Buckingham & Thomas Forrester Become A Couple?
Of course, this means that Zoe and Thomas are now staying together in the apartment, and according to B&B spoilers, they'll be getting closer as time goes on. But could they wind up together, as a couple? We think it's likely, even considering their history together. B&B viewers will remember that Thomas actually threatened Zoe in the past, while they were both keeping the secret about Beth Spencer (River Davidson and Madeline Valdez).
But a lot has changed for both Zoe and Thomas. They could each use an ally right about now. Zoe has lost her relationship with Xander Avant (Adain Bradley) and her father Reese Buckingham (Wayne Brady) is in prison, and the only other person who's in Thomas' corner is his dad Ridge Forrester (Thorsten Kaye). They each need somewhere to turn, and turning to each other would seem like a good idea.
Plus, Thomas has been thinking about Zoe a lot lately, anyway. He recently confessed to her that he was designing again, and that she was the inspiration for his designs. He even told Zoe that she might be able to return to Forrester Creations down the line, once he gets back on board there. Thomas seems to need Zoe's friendship just as she needs his, so it makes sense that they would turn to each other.
The Bold and the Beautiful Spoilers: Liam Stunned Steffy's Dating – But Is She Secretly Pining for Her Ex? @celebratesoaps #bb #BoldandBeautifulhttps://t.co/xTvL6CAbJC

— SOS/CTS/HH (@SoapOperaSpy) October 30, 2019
B&B Spoilers – Zoe Buckingham Makes A Move On Thomas Forrester
According to B&B spoilers, Zoe will even take steps to make her relationship with Thomas about more than friendship. They'll be living together and around each other a lot, and Zoe will take the opportunity when the time seems right to kiss Thomas. Of course, whether Thomas reciprocates the kiss remains to be seen, but it's likely that he will, since he recently commented on how attractive Zoe is.
But could these two actually pair up down the line? It would certainly make sense from Thomas' perspective, if he needs a muse and a top model to show off his designs once he's back in full swing at Forrester Creations. And if Zoe believes that Thomas could be her ticket back into Forrester Creations, then it would make sense that she might embark on a relationship with him.
At any rate, it will be interesting to see what happens between Zoe and Thomas, and whether they just have a fling or become something even more. Do you think Thomas and Zoe would make a good couple?
As always, more detailed spoilers and a full collection of pictures for the week in question will appear here on Soap Opera Spy, where there will be more clues and hints over exactly what's going on.