The Bold And The Beautiful Spoilers: The Beth Secret Takes A Deadly Turn– A Death Rocks B&B June 24-28
The Bold and the Beautiful (B&B) spoilers tease that during the week of June 24 the Beth secret will take a deadly turn for one character. Executive producer Brad Bell suggested a few weeks ago that before it's all said and done, someone will die so the secret will stay buried. Here's what we know about the upcoming storyline on B&B.
B&B Spoilers– Thomas' Obsession Gets Worse
Now that Thomas Forrester (Matthew Atkinson) know the baby secret, his drive to protect Hope Logan (Annika Noelle) intensifies. He tried to utter the words to his sister that the baby she is raising is really Hope's daughter, but he couldn't do it. B&B spoilers state that Steffy is happy right now and he couldn't mess that up for her.
B&B spoilers reveal that Thomas knew that if she found out that Phoebe was Beth after all the heartache Hope has been going through, she would want to make it right. Even if that meant losing her. So, Thomas kept his mouth shut and vowed not to tell anyone.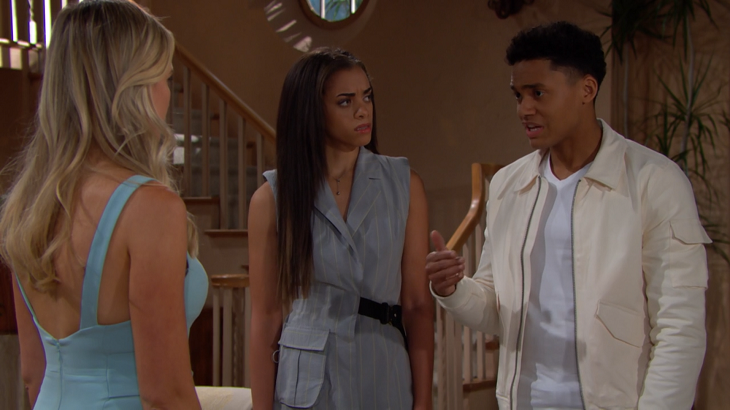 Bold And Beautiful Spoilers– Xander Becomes A Target
It seems pretty clear right now that Xander Avant (Adain Bradley) will be the murder victim. He is the only one that seems to tout regularly that Hope needs to find out Beth is alive. B&B spoilers state that he's being silenced by Zoe Buckingham (Kiara Barnes) and Flo Fulton (Katrina Bowden).
Bold and the Beautiful spoilers tease that the murder will stun many people and could lead to the secret being exposed. We do know that Flo will probably not be the murder victim as she is a member of the Logan family.
B&B Spoilers– What About Flo And Zoe?
Another reason Flo isn't the one to be killed off is the B&B writers will want her alive to have the full effect of the fallout when the secret finally comes out. Zoe, however, she could be killed off without much drama. If her father, Reese Buckingham (Wayne Brady) doesn't come back on the show, killing her off would be the easy way.
Besides without Zoe's bullying, the secret would have come out a long time ago. Who do you think is the murder victim? And, who is the one who is driven to kill to keep this horrible secret?
Soap Opera Spy is a leading source for everything linked to The Bold and the Beautiful. Check back regularly for B&B spoilers and news! As always, more detailed Spoilers and Breaking news will appear here on Soap Opera Spy.