General Hospital Spoilers Tuesday, March 19: Sonny's Risky Death Plot – Oscar's Tumor News – Peter's DNA Bombshell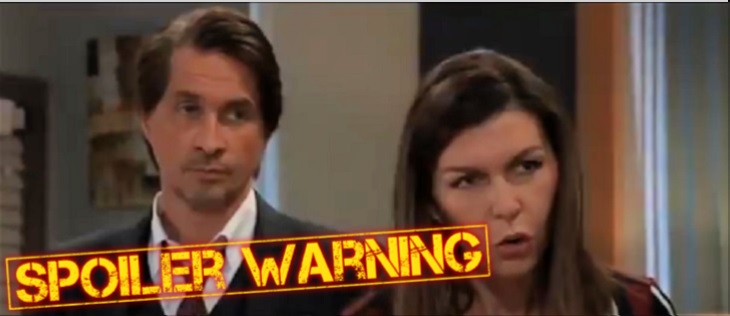 "General Hospital" spoilers for Tuesday, March 19, tease that Elizabeth Webber (Rebecca Herbst) will have a hard time moving forward. She'll tell Franco Baldwin (Roger Howarth) she knows what she wants to say, but she won't be sure she can. Liz is caught between her deep love for Franco and the pain of all his deception. She'll have trouble deciding if his secret plan is something she can get past.
Meanwhile, Julian Jerome (William deVry) will get an upsetting phone call. It may involve Ava Jerome (Maura West), who'll still be spiraling over the whole Ryan Chamberlain (Jon Lindstrom) situation. Julian will want to help Ava, but GH fans can expect him to help Dr. Kim Nero (Tamara Braun) as well. She'll be worried about Oscar Nero's (Garren Stitt) test results, so Julian will plan a sweet surprise.
"General Hospital" spoilers say Julian will put together a nice care package and hope it comforts Kim's family. They'll need all the comfort they can get after Dr. Terry Randolph (Cassandra James) delivers updates.
General Hospital Spoilers – Oscar Finds Out His Tumor Has Grown
Drew Cain (Billy Miller) will join Kim in Oscar's room, where they'll all learn Oscar's tumor has grown. Oscar will brace himself as Terry gets ready to reveal how much time he has left. Sadly, it probably won't be much.
LOVE GH?  SUBSCRIBE TO OUR GENERAL HOSPITAL NEWSLETTER, HERE
Back with Ava, she'll have an outburst and face one in return. Carly Corinthos (Laura Wright) will have a hint of sympathy for Ava, but she'll still want her to pull it together. Avery Corinthos (Ava and Grace Scarola) needs her mom – and not one who's drunk and ranting constantly. Carly may insist that Ava has to step up and do what's best for her remaining daughter.
Anna Devane (Finola Hughes) will also get tough with her twin on Tuesday. She'll tell Alex Devane Marick (Finola Hughes) that if she doesn't offer any memory info, there'll be no cure for her. Alex will reluctantly fill Anna in on a memory or two, but it won't be enough to satisfy Anna.
General Hospital Spoilers – Peter Is Alex's Son, Not Anna's
However, Alex will provide an intriguing clue before her latest run wraps up – and it most likely involves Peter August (Wes Ramsey). It looks like Peter is actually Alex's son, but it'll be a while before Anna accepts and proves it. Finally, Dante Falconeri (Dominic Zamprogna) will hear all about his dad's plot. It'll be risky, but Sonny Corinthos (Maurice Benard) will urge Dante to trust him on this.
General Hospital Spoilers: Jason Morgan Arrested – Did Shiloh Set Him Up? https://t.co/WBlcsKuUAA pic.twitter.com/zrEfhvo2OX

— SOS/CTS/HH (@SoapOperaSpy) March 18, 2019
Sonny wants Dante to kill him before Raj Patel (Noshir Dalal) does it for him, so it sounds like a fake death scheme is brewing on "General Hospital." We'll keep you posted as other GH news and rumors emerge.
Stay tuned to the ABC soap and don't forget to check Soap Opera Spy often for the latest "General Hospital" spoilers, rumors, updates and news.
As always, more detailed spoilers and a full collection of pictures for the week in question will appear here on Soap Opera Spy, where there will be more clues and hints over exactly what's going on.
General Hospital airs weekdays on the ABC network.
---
Read more news, spoilers, and gossip on our General Hospital homepage
Want up-to-the-minute soaps news, spoilers, and gossip on your social feeds? Just hit 'Like' on our Soap Opera Spy Facebook page.