General Hospital Spoilers: Steve Burton Reveals Maurice Benard's Encouragement Kept Him From Leaving GH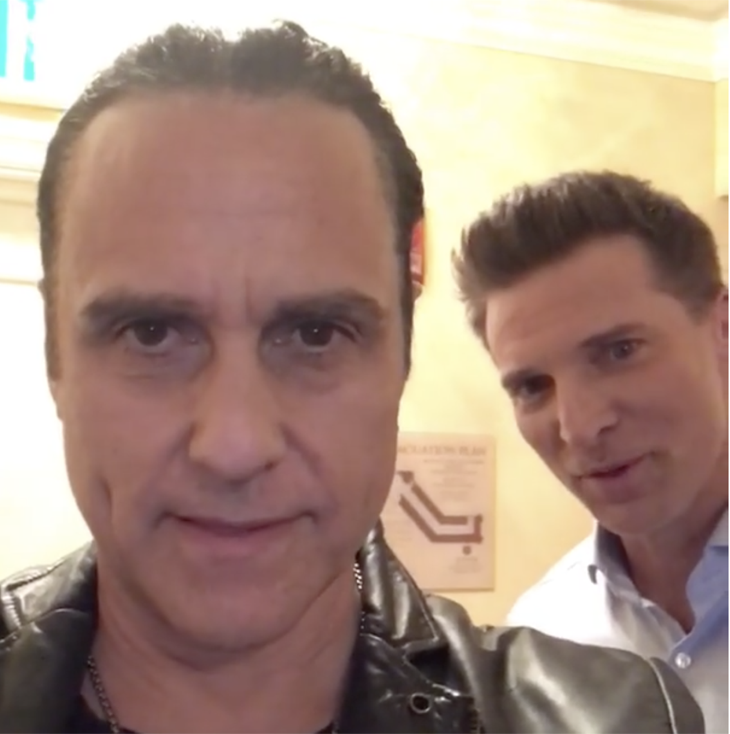 General Hospital spoilers reveal that Steve Burton (Jason Morgan) wasn't always so keen on playing the character Jason Quartermaine who crashed into that tree and reinvented himself as Jason Morgan, the mob enforcer for Sonny Corinthos (Maurice Benard)! In an interview with ABC Soaps in Depth, Burton reveals that Maurice really took him under his wing and was a great mentor to him, even when he was still playing pre-crash Jason.
He further states in the interview that at first, Maurice and he saw each other around the set, but really didn't talk that much. In fact, just as Steve was considering leaving the show and Jason behind, Maurice came up to him one day on the set and Maurice complemented him on some of his scene work. He asked Steve if he had any kind of technique, and Steve had no idea; Maurice offered to help him out with technique, and it only got better from then on!
Steve would hang out with Maurice, and was a frequent guest in the Benard home. They would rehearse and rehearse for hours and Maurice would teach Steve about acting and technique. Since Steve had never had acting lessons, this was a great help to him, and a great friendship developed between the two as well that exists to this day.
Missed an episode? Not to worry! Full episodes of #GH are just a click away: https://t.co/uMgkbTaTwK

— General Hospital (@GeneralHospital) January 19, 2019
Steve suspects their obviously close friendship on the GH set may be what inspired General Hospital writers to transform Jason from Jason Quartermaine, medical student, to Jason Morgan, mob enforcer and right-hand man to Sonny Corinthos! Steve also shares two important lessons for both acting and life in general that he has learned from Maurice; to be honest with oneself and not to fake it, either in life or in acting. He says if something's not there, either in a scene or in a life situation, don't force it.
General Hospital fans have Maurice Benard to thank for the Jason Morgan we see today! Stay tuned to the show and keep checking General Hospital spoilers frequently to see Sonny and Jason and their continuing adventures!
As always, more detailed spoilers and a full collection of pictures for the week in question will appear here on Soap Opera Spy, where there will be more clues and hints over exactly what's going on.
General Hospital airs weekdays on the ABC network.
---
Read more news, spoilers, and gossip on our General Hospital homepage
Want up-to-the-minute soaps news, spoilers, and gossip on your social feeds? Just hit 'Like' on our Soap Opera Spy Facebook page